Posted on Thursday, July 29, 2021 03:26 PM
The swimming pool at the WJ Henderson Recreation Centre will be reopening for aquatic certification courses beginning with Bronze Medallion on August 9, 2021. A staffing shortage will cause a delay for the return of swims, aquafit and children's lessons.
Bronze Medallion and Bronze Cross
The Recreation division will be running the Bronze Medallion (August 9-13) and Bronze Cross (August 16-20) courses to certify and train new staff.
Registration for Bronze Cross and Bronze Medallion will...
Posted on Monday, July 05, 2021 02:50 PM
Visioning Survey Deadline Extension - July 16th
A Visioning Survey is being conducted by Loyalist Township to allow those who were unable to attend the Visioning Workshop that was held on June 24th, or those would like to provide further input, an opportunity to be involved in the future plans for Amherstview West.
Click here to fill out the Amherstview West Secondary Plan Visioning Survey. The survey deadline has been extended to Friday July 16, 2021 at 11:59 pm.

For more information on the...
Posted on Thursday, June 24, 2021 02:08 PM
Loyalist Township and the Community and Customer Services Department are delighted to announce the launch of a new division that will place a renewed importance on the preservation and promotion of local assets of heritage, culture and tourism.
This new division will focus on a renewed and integrated approach to heritage, culture, and tourism. It will help support the Township and its residents, providing resources and dedication to focus on the numerous historical assets and their preservation,...
Posted on Thursday, June 24, 2021 01:33 PM
Staff from Loyalist Township's Public Works Division will be completing a culvert replacement on Sharpe Rd between Civic #1767 and #1812. The road will be closed on June 29th at approximately 7:00 am and should be reopened by 5:00 pm.
Sharpe road will be blocked at Violet Rd. and Brandon Rd. Sharpe Rd. will be open to local traffic only, however vehicles will not be able to pass through at the culvert location (#1767 - #1812).
Residents will be required to detour on Violet Rd. or Brandon...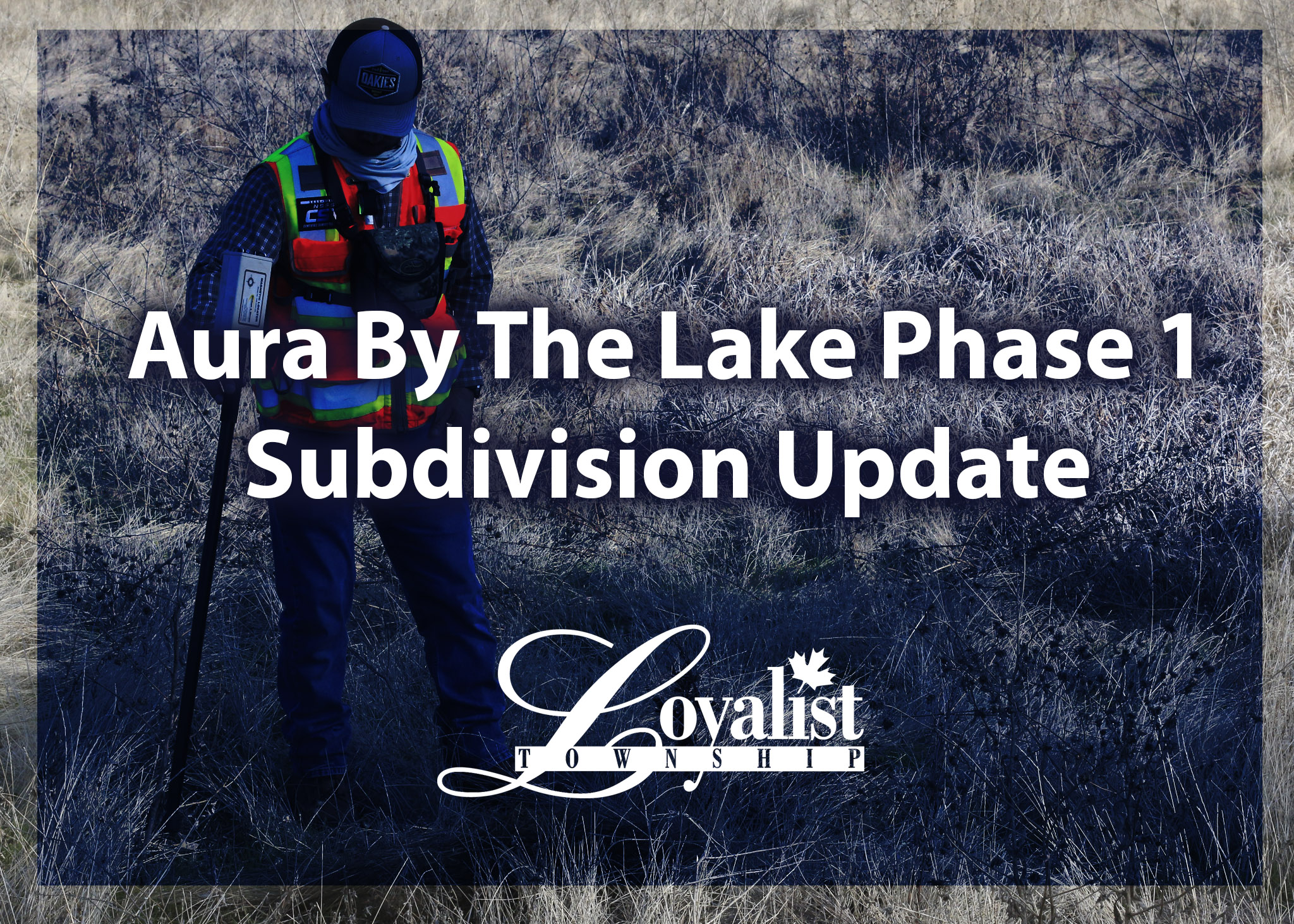 Posted on Tuesday, June 22, 2021 06:30 PM
Loyalist Residential Developments is entering final phases of approval for the upcoming Aura By The Lake Phase 1 Subdivision. The final phases will include the northern extension of Windermere Blvd. and will connect to Purdy Rd. and Gildersleeve Blvd. Construction may begin as soon as late August to September 2021. Currently, the developer is undertaking pre-blast surveys and other pre-construction work in the area where required by provincial regulations.
Blastek Engineering Group Inc. has been...