Posted on Thursday, August 27, 2020 04:03 PM
Beginning August 31, Kingston Transit will increase service, resume front-door boarding and fare collection.
The #10 bus serving riders from Amherstview - Kingston will be returning to pre-pandemic schedules. There are minor adjustments to arrival and departure times on some routes.Updated schedules are available at KingstonTransit.ca/Schedules and on Google Maps, TransitApp or Moovit app.
Front door boarding and fare collection
Front-door...
Posted on Wednesday, August 19, 2020 04:06 PM
Please be advised that as of Saturday, August 22 at 10 am residents of Amherst Island may drop off brush at the Amherst Island landfill during regular operating hours. Residents are advised that there is a maximum diameter limit of 200 mm and only brush is permitted. The landfill attendant will direct residents to the new brush drop off area.

Township residents may also drop off yard waste and brush at the Kingston Area Recycling Commission (KARC) located at 196 Lappan's Ln. Construction materials...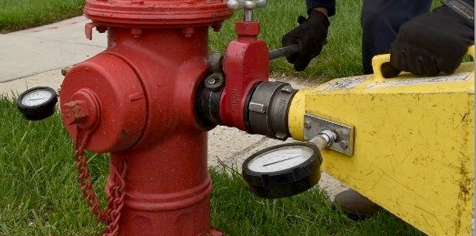 Posted on Thursday, August 13, 2020 04:33 PM
During the warmer months of the year, Utilities staff undertake a program of flushing all watermains in the Township's distribution systems. Flushing the watermain helps clear sediments that collect in the pipes through normal use and improves water quality.

In 2020, the watermain program has been completed in Bath. Flushing in Amherstview begins on Monday, August 17.

When the sediments are stirred up in watermains, residents may notice that the water in their home develops a brown or yellow tinge....
Posted on Wednesday, August 12, 2020 04:35 PM
On Monday, August 17th, Public Works will begin work on culverts on County Road 6. This work will take approximately three weeks.

There will be multiple road cuts along County Road 6 between Highway 2 and Taylor Kidd Boulevard. Motorists are advised that they should drive with caution over the culvert cuts, as well as in areas where construction crews are working.

The road will remain open to traffic, however, delays are expected.
Posted on Tuesday, July 21, 2020 10:45 AM
Starting July 27, bag tags will be required again for all garbage bags put out for collection in Loyalist Township.

Residents can purchase bag tags at the Loyalist Township Administration Office, the Amherst Island Landfill or from several retail locations in Loyalist Township.

Residents still experiencing financial hardship due to COVID-19 can contact the Township office at 613-386-7351 for waste disposal options.