Community Hub Project Background

Parks and Recreation Master Plan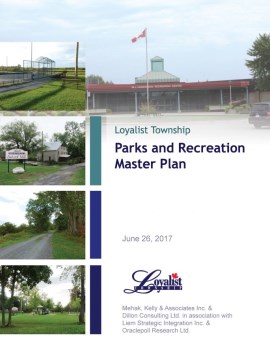 The concept of a Community Hub was first presented to Loyalist Township Council in 2017, after the completion of the 10-year Parks and Recreation Master Plan. This study included several recommendations for the W.J. Henderson Recreation Centre and referenced the opportunity to include additional recreation facilities and amenities and a potential new municipal office on the site, effectively creating a one-stop-shop location for the Loyalist Township community.
Feasibility Study for Community Hub

In July 2018, the Township retained the services of MacLennan Jaunkalns Miller Architects (MJMA), a firm based out of Toronto, to complete a Study and Master plan which would examine the feasibility of creating a community hub at the W.J. Henderson Recreation Centre. The study, which was completed in December of the same year, concluded that the site was well suited for this purpose and presented a conceptual design for the proposed facility as well as high-level cost estimates.
Meanwhile, the rapidly deteriorating state of the existing pool led to the decision to create separate phases for the project. The construction of a new aquatic facility would be incorporated into Phase 1, while the addition of a new administrative building and other recreation amenities would be completed over future, subsequent phases. The need to proceed with Phase 1 of the project was made more urgent with the subsequent closure of the pool in April 2022.
Grant funding
Council authorized staff to proceed with developing a schematic design for the proposed facility, with the goal of advancing the project and strengthening any potential grant applications to programs which could provide funding towards this project. These schematic designs were incorporated into an application to the Green and Inclusive Community Building Fund, a program administered by Infrastructure Canada, which was submitted in July 2021.
Infrastructure Canada informed Loyalist Township that its application to the Green and Inclusive Community Building Fund was successful on December 8th, 2022, and that the Township would receive $16.5million in funding towards the project.

Integrated Project Delivery
The Township elected to make use of an Integrated Project Delivery method for this initiative. Under this format, the Township will work collaboratively with a lead architect and contractor to validate the project, which will involve advancing the design and developing target project costs and construction timelines, and, subject to Council approval, construct the facility.
MJMA will act as the lead architect and Chandos Corporation will fill the role of General Contractor. Together, the Township, MJMA, and Chandos will form an Integrated Project Delivery team and collaborate to develop a Validation Report for the project in the summer of 2023. The Validation Report, which will set a target cost and propose timelines for the project, will be presented to Council in August 2023, after which point Loyalist Township Council will decide whether or not to proceed with the project.