The W.J. Henderson Recreation Centre Pool will reopen on Monday, September 13th, 2021. The pool schedule will be visible by Tuesday, September 7th, 2021. We remain short on swimming instructors and will not be offering children's and adult's learn to swim programs when we first reopen. These programs will return at a later date.
Types of swims
Who loves swimming? We do! Come visit the pool for a fun way to cool off, burn off some extra energy, or get some low impact cardio into your busy day. Loyalist Township offers several different types of swims to fit your recreation needs.
View the swimming schedule and swim descriptions below, or download the PDF of the Pool Schedule.
Public swim
At this time, due to COVID-19, we have no scheduled public swim sessions.
Lane swim
We have three (3) lanes: Two (2) double lanes with a capacity of six (6) swimmers per double lane, and a single lane with a capacity of one (1) swimmer. Swimmers must maintain 2m distancing between each other at all times. Pre-registration is required.
Lane swim pool setup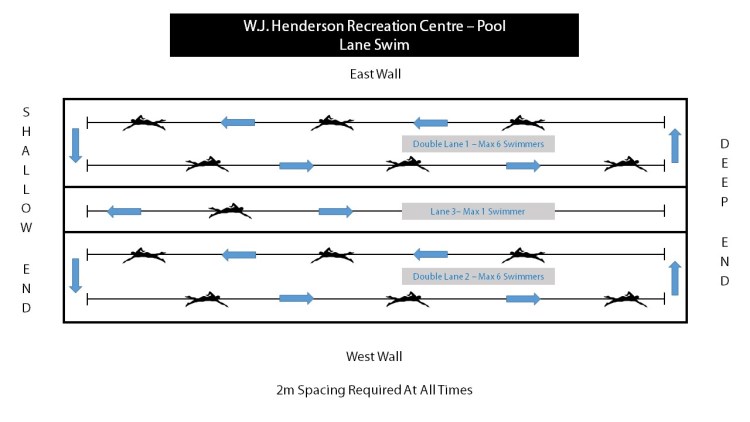 Lane Etiquette
Swimming
Swim only in the lane you've pre-registered in. This is a requirement for contact tracing.
Swim up the right hand side of the lane, and back on the left hand side of the lane along the black lines on the bottom of the pool (circle swimming).
Always swim complete laps. This keeps other swimmers from having to guess the movements of others in the lane which is safest.
All swimmers must make an effort to be aware of those around them and share the space appropriately.
Slower swimmers should avoid pushing off in front of faster swimmers.
Faster swimmers should wait to push off behind slower swimmers to create some space between you.
Five (5) second spacing is recommended for lanes in which swimmers are moving at the same speed. For lanes that have swimmers of multiple speeds, use your best judgement to determine spacing.
Passing
If you have to pass someone, pass to the left as quickly as possible before returning to the black line.
If you are being passed, allow the swimmer to pass you quickly. This keeps the middle of the lanes open for others to pass and assists in keeping everyone safer during their workout.
Some swimmers may tap your foot to indicate that they are about to pass you. This is meant to communicate the intent to pass only. It is inappropriate to grab the foot or ankle for this intention.
Turning
Be aware of others when performing flip-turns. If you are unable to safely turn, touch the wall and turn around.
In Double Lanes, it is recommended that you slide along the wall and push off on the black line if possible. This helps keep the middle of the lane open for swimmers who are passing others.
If you are stopped at the wall, make sure you move out of the way to allow others the space they need to turn.
Lane Etiquette works when everyone does their part. Have a great swim!
Senior swim
Open to swimmers ages 55+. We have one double lane with a capacity of six (6) swimmers and an open area with a capacity of ten (10) swimmers. Swimmers must maintain 2m distancing between each other at all times. Pre-registration is required.
Senior swim pool setup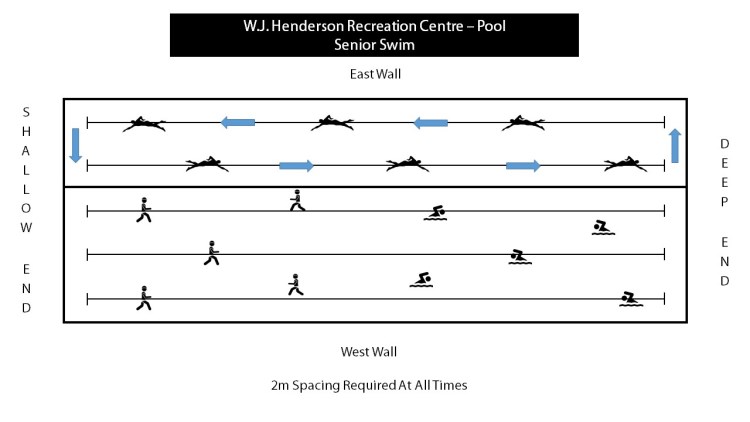 Parent & tot swims
Open to parents and "tots" (children age 5 and under). This swim has no lanes but is limited to the shallow end of the pool. The admission fee covers one adult and one tot and there must be 1:1 supervision ratio for each tot at the swim. This swim is limited to sixteen (16) people - eight (8) adults, and eight (8) tots. Pre-registration is required. Please pre-register the ADULT attending for contact tracing purposes. Participant pairs must maintain 2m distancing from other participant pairs at all times.
Parent & tot swim pool setup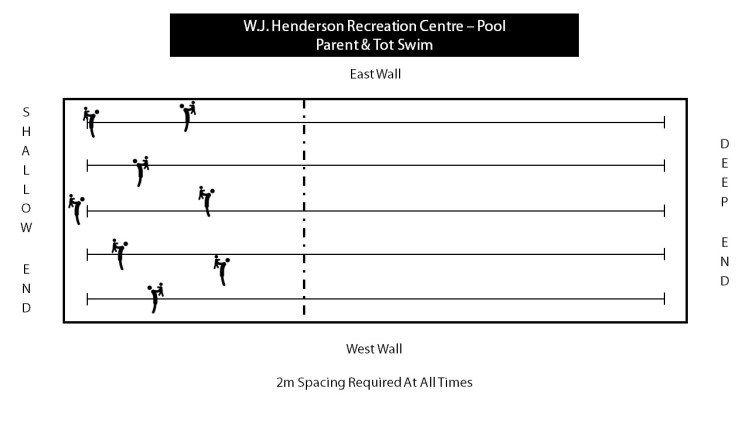 Family swims
At this time, due to COVID-19, we have no scheduled family swim sessions.
Fees
Fees are currently pay-as-you-go and swims require pre-registration during COVID-19.
| | |
| --- | --- |
| Fee Type | Fee |
| Youth (14 and under) | $3.00 |
| Youth (15-24) | $3.50 |
| Adult (18-55) | $5.00 |
| Senior (55+) | $3.50 |
| Parent & Tot Swim (includes 1 adult and 1 tot) | $5.00 |
| Aquafit | $8.25 |
Swimming schedule
Loyalist Residents: In order to pre-register between 48hrs and 96hrs before the swims below, you will need to login to your account at
loyalisttownship.perfectmind.com
or by clicking "Login" in the top right corner of your page after clicking "More Info" below.