Our community is part of the Federation of Canadian Municipalities' Partners for Climate Protection (PCP) program. As part of this program, we are building a Community Climate Action Plan. The Loyalist Township Corporate GHG Reduction Target report went to Council in October of 2019 and Council chose to move forward with targeting a 49% reduction in GHG emissions below 2016 levels by 2031.
The next step of the PCP program is to build the community target. During the summer and fall of 2020 input will be needed from residents, businesses, and community groups.
What is a Climate Action Plan?
A Climate Action Plan is a set of strategies intended to guide community efforts for reducing greenhouse gas emissions (GHG).
Projected Timeline:
Summer 2020
Research & initiate public feedback;
Fall 2020
Community involvement and public feedback;
Winter 2020
ResiLienT Loyalist Township Climate Action Plan complete
Virtual Climate Action Public Engagement Feedback Sessions:
On Wednesday, October 7th Township staff hosted a Zoom-based Climate Action public engagement feedback session. Township staff presented a list of initiatives which could be undertaken as part of Climate Action in Loyalist, and received feedback from participants during the event.
If you missed the feedback session, you can watch the recording of the session.
More ways to get involved:
Join the mailing list, email: climateaction@loyalist.ca
Participate in the local climate champion social media campaign
Speak to your local councillor
Complete climate action surveys for Loyalist Township
Local Climate Champion Social Media Campaign:
Do you know a local community climate champion? Are you willing to share your climate action?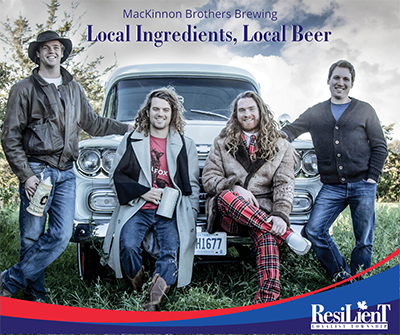 As part of building the ResiLienT Loyalist Township Climate Action Plan, a social media campaign will run showing early
To do this we will need: champions who are already doing relevant, good work in our community. Climate champion actions can be anywhere from the Township purchasing a new electric ferry, pictured right, to residents using a clothesline or composting in their backyard.
Name of person, business, or community group.
Name of climate action.
Several photos.
A short quote describing the impact.
Please reach out to climateaction@loyalist.ca to share your story and/or join the mailing list!
ResiLienT Loyalist Township Surveys:
Related Links:
Climate Risk Institute (CRI)
Canada
Federation of Canadian Municipalities
Project Drawdown
The Intergovernmental Panel on Climate Change
Related Loyalist Township Links: