Earth Day is the largest secular observance in the world – celebrated by more than a billion people every year – and a day of action that changes human behaviour and provokes policy changes. This year, Earth Day takes place on Friday, April 22, 2022.
Loyalist Township has participated in Earth Day celebrations in the past by supporting local business initiatives, hosting clean-ups such as the "Great Loyalist Clean-Up", and much more.
This year, Loyalist Township has registered to participate in Earth Day Canada's Municipalities Mobilizing campaign. Loyalist has joined more than 115 municipalities in Canada registered to participate.
In addition to raising awareness of environmental issues among citizens and organizations across the country, this campaign aims to encourage as many people as possible to take action.
E-Waste Drive
Do you have unwanted e-waste that is collecting dust around your home? Join Loyalist Township on Saturday, April 23rd to recycle your e-waste in an environmentally safe manner.
Date: Saturday, April 23, 2022
Time: 11AM - 3PM
Location: Amherstview Fire Station, 363 Amherst Drive, Amherstview, ON K7M 1V3

The future is in your hands. Don't let it go to waste. Review our list of acceptable e-waste below.
Display Devices
Computer monitors, television screens, etc.
Home Audio/ Video/ Gaming Systems
Stereos, routers, DVD players, video game consoles, controllers, etc.
Computer Materials
Desktop computers, portable computers, laptops, routers, cables, chargers, USBs, etc.
Camera Equipment
Cameras, security cameras, drones, etc.
Vehicle Audio/ Video Systems
Aftermarket.
Personal/ Portable Audio/ Video Systems
IPods, headphones, earbuds, etc.
Musical Instruments & Recording Equipment
Microphones, amplifiers, etc.
Printing Materials
Floor standing printers, printer cartridges, desktop printers, 3D printers, etc.
IT & Telecom Equipment
Hard Drives, servers, microfilm readers, binding machines, postage franking machines, check filler machines, etc.
Phones
Telephones, cellular and smart phone devices, pagers, etc.
Find other e-waste drop off zones by visiting Recycle My Electronics.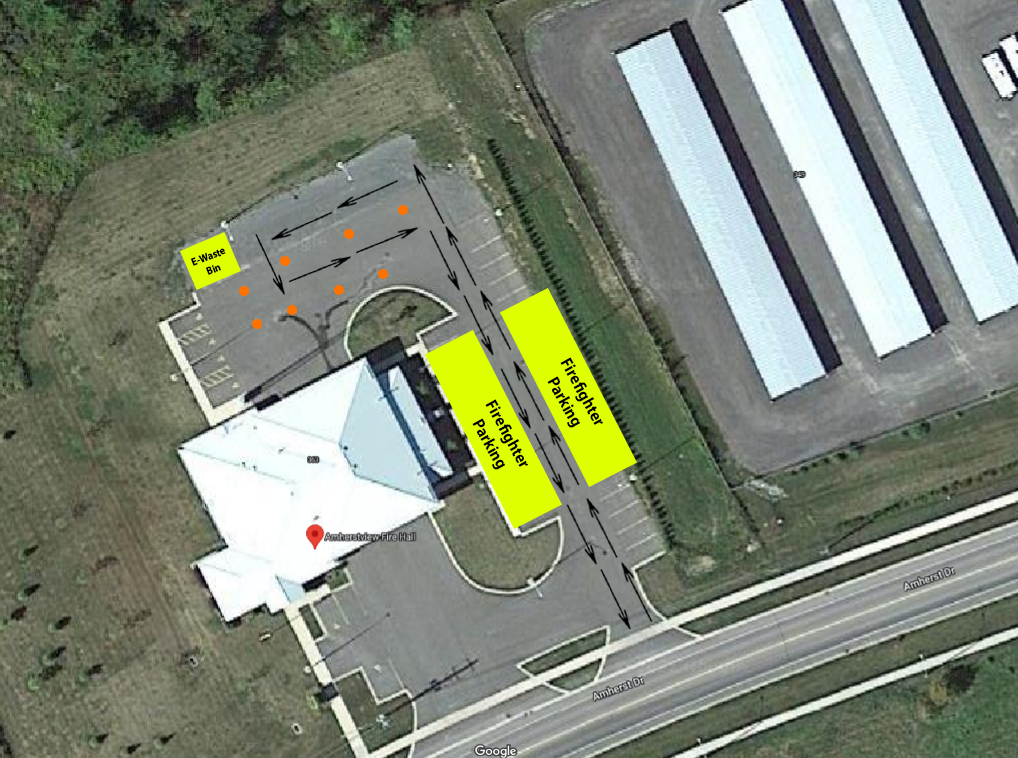 On Saturday, April 23rd, residents can enter the Amherstview Fire Station parking lot from Amherst Drive and will be directed to head towards the back of the parking lot where Township staff will be waiting to collect their recyclable e-waste.
ResiLienT Loyalist Township Climate Action Plan
At the October 23rd, 2017 session of Council, Loyalist Township enrolled into the Federation of Canadian Municipalities' Partners for Climate Protection (PCP) program, joining over 350 municipalities across Canada that have committed to undertaking local action on climate change. As part of the Five Milestone PCP program, our community built the ResiLienT Loyalist Township Climate Action Plan. ResiLienT Loyalist Township is a set of strategies intended to guide community efforts for reducing greenhouse gas emissions (GHG), improve our health, grow our local economy, and increase social equity.
Table of Priority Sectors and Goals
Sustainable Land Use
Meet the current and future needs of the Loyalist Community while incorporating practices that will protect the environment and support local agriculture.
Waste Reduction
Divert waste away from landfill and promote a circular economy.
Transportation
Provide residents with enhanced transit services and promote the uptake of low-carbon fuels in vehicles, all while maintaining expected levels of service.
Buildings
Increase the energy efficiency of existing residential, commercial, and municipal buildings, and promote the construction of new buildings designed to exceed existing energy standards.
Water and Wastewater
Reduce residential water usage and the amount of energy required to treat, distribute, or collect water and wastewater.
Other
Undertake initiatives which may not have a direct and quantifiable impact on GHG emissions in Loyalist, but that will contribute to a culture of climate action while promoting community resiliency and financial sustainability.
Stay tuned for ways that you can get involved by signing up for the quarterly ResiLienT Loyalist Township Newsletter email list by reaching out to climateaction@loyalist.ca.
Living in Loyalist - Disposal Services
Recycling
If you live in mainland Loyalist Township, your recycling is picked up on the same day each week, depending on your area. Learn more about our recycling services, pick-up dates, and process on our Recycling webpage.
Landfills
Loyalist Township has two landfills. Learn more about their hours of operation and fees on the Landfills webpage.
Hazardous Waste
Household hazardous waste (HHW) includes products like used motor oil, leftover paint, and chemicals that can't go into the garbage or recycling bin. Loyalist's HHW program is managed through the City of Kingston and is free for township residents. Kingston's HHW depot is at 196 Lappan's Lane. It's open Thursdays and Saturdays from April through November. Check to see what they accept before you go.
Brush and Yard Waste
Loyalist Township provides separate collections for brush and yard waste in spring and fall. Crews will pass through an area only once for each collection.
E-Waste & Batteries
Give your batteries and old electronics new life by recycling them at designated drop-off locations.
Giveaway Days
Giveaway Days are a great opportunity to de-clutter and find a new home for any unwanted items while also picking up something you may want or need for free! Keep gently used items out of the landfills by allowing others to re-use or up-cycle them. Giveaway Days are scheduled several times throughout the year in Loyalist Township. Please refer to the Municipal Calendar for specific dates.
Opportunities Offered by Loyalist Township
Water Conservation Incentive Program
Loyalist Township offers a $50 credit on water/wastewater bills to assist residents with purchasing a low-flow toilet or high-efficiency faucet to conserve water as part of our Water Conservation Incentive Program.
Renewable Energy Fund Grant
The Renewable Energy Fund Grant Policy establishes principles, standards and guidelines for the maintenance and accounting of the funding received through the "Community Benefit Agreement" with Windlectric Inc. and the "Community Vibrancy Fund Agreement" with Kingston Solar GP Inc. The policy sets guidelines for the use of funds during and beyond the terms of the agreements, with the intent to provide financial assistance to local community groups and organizations within Loyalist Township.
Ways to Get Involved Locally
Bath Sunday Market
Support local and visit the Bath Sunday Market each Sunday during the Summer and see the different produce and items they have for sale. Follow them for details on the 2022 market.
Bath Gardening Club
The aim of the Bath Gardening Club is to beautify the Village of Bath, Ontario, to share gardening information with fellow gardeners, and to promote an interest in and enjoyment of gardening and related activities. New members are always welcome.
Lennox & Addington Horticultural Society
Join the Lennox & Addington Horticultural Society and Garden Club for exchanging information on Gardening fun. Learn from guest speakers and members on any gardening problem you may have.
Ways to Get Involved From Home
Visit Earth Day Canada to learn about programs, workshops and at home opportunities to reduce your environmental impact. Their blogs cover a wide range of topics educating readers on how their actions can negatively or positively impact the environment.
You can also get outdoors and appreciate the environment we are working to save by visiting local parks and trails.