ResiLienT Loyalist Township
ResiLienT Loyalist Township Climate Action Plan:
At the October 23rd, 2017 session of Council, Loyalist Township enrolled into the Federation of Canadian Municipalities' Partners for Climate Protection (PCP) program, joining over 350 municipalities across Canada that have committed to undertaking local action on climate change. As part of the Five Milestone PCP program, our community built the ResiLient Loyalist Township Climate Action Plan. ResiLient Loyalist Township is a set of strategies intended to guide community efforts for reducing greenhouse gas emissions (GHG), improve our health, grow our local economy, and increase social equity. On February 8th, 2021 Council unanimously passed the motion to accept the ResiLienT Loyalist Township Climate Action Plan to act as a road map for local action and keep climate action as a priority for decisions.
The ResiLient Loyalist Township Climate Action Plan contains goals and strategies for both the Loyalist Township corporate and community reductions. With a corporate GHG reduction target of a 49% reduction in GHG emissions below 2016 levels by 2031 & a community GHG reduction target of 25% below 2017 levels by 2031 was approved by Council in November 2020.
The goals and actions presented in this plan stemmed from engaging with residents, stakeholders, and Township staff alike, and were developed with a commitment to respect taxpayer dollars while maintaining or exceeding existing levels of services. This feedback, combined with research and technical analyses, was used to develop thirty-three goals and actions across six priority sectors.
Table of Priority Sectors and Goals

| Priority Sector | Goals |
| --- | --- |
| Sustainable Land Use | Meet the current and future needs of the Loyalist Community while incorporating practices that will protect the environment and support local agriculture. |
| Waste Reduction | Divert waste away from landfill and promote a circular economy. |
| Transportation | Provide residents with enhanced transit services and promote the uptake of low-carbon fuels in vehicles, all while maintaining expected levels of service. |
| Buildings | Increase the energy efficiency of existing residential, commercial, and municipal buildings, and promote the construction of new buildings designed to exceed existing energy standards. |
| Water and Wastewater | Reduce residential water usage and the amount of energy required to treat, distribute, or collect water and wastewater. |
| Other | Undertake initiatives which may not have a direct and quantifiable impact on GHG emissions in Loyalist, but that will contribute to a culture of climate action while promoting community resiliency and financial sustainability. |
Some of the initiatives discussed in this plan will require a significant amount of public feedback and the development of robust funding strategies, while others rely technologies that are just starting to emerge on the market. As such, they will gradually be implemented over the 10-year period covered by this document, as appropriate
The ResiLienT Loyalist Township Climate Action Plan represents the municipality's first steps towards local climate action. The target sectors and goals were developed based on feedback garnered throughout various engagement sessions and reflect corporate and community priorities. If properly implemented, this plan will contribute to a culture of Climate Action in Loyalist and act as a steppingstone towards more ambitious targets in the future, especially when considering the federal target of Net-Zero emissions by 2050.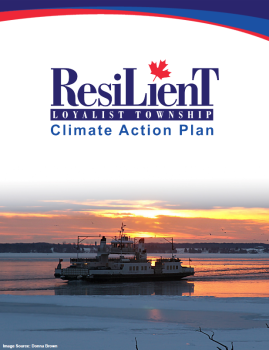 Read the ResiLienT Loyalist Township
Climate Action Plan:
Click here to download the ResiLienT Loyalist Township Climate Action Plan.
Community Supporters of ResiLienT Loyalist Township:
A high degree of collaboration between the municipality and the community was required to put this plan together. Its implementation, and eventual success, will be contingent on maintaining the momentum that has developed over the course of this project. The following local businesses, organizations, and community-based groups provided a letter of support endorsing this project, and indicated their organization's interest in taking an active role on climate action:
LaFarge Canada
Topsy Farms
L&A Stewardship Council
Bath Museum
Sustainable Kingston
Limestone District School Board
National Farms Union Local 316
MacKinnon Brothers Brewing Co.
Ontario Power Generation
Cataraqui Conservation
If you represent a local business, organization, or community-based group and would like to write a letter of support for ResiLienT Loyalist Township, please do not hesitate to reach out to climateaction@loyalist.ca should you wish to endorse this project or if you have any questions.
Loyalist Township's Award-Winning Climate Action Project: Amherstview Water Pollution Control Plant Constructed Wetland
Loyalist Township received a Federation of Canadian Municipalities' 2020 Sustainable Communities Award for exceptional work in the Water category for the Amherstview Water Pollution Control Plant Constructed Wetland. A constructed wetland was incorporated into the Amherstview Water Pollution Control Plant in 2018. The system provides tertiary treatment to wastewater in a passive, net-zero energy manner and the plants act as a carbon sink.
Divert waste away from landfill and promote a circular economy
Next Steps & Ways to Get Involved:
Stay tuned for ways that you can get involved by signing up for the ResiLienT Loyalist Township email list by reaching out to climateaction@loyalist.ca. During the implementation of this plan, we will be looking for community members to volunteer, sit on advisory groups, provide additional feedback, and contribute in different ways.
Related Links:
Climate Risk Institute (CRI)
Canada
Federation of Canadian Municipalities
Project Drawdown
The Intergovernmental Panel on Climate Change
Related Loyalist Township Links: