What is Loyalist Days?
Loyalist Days is an annual celebration whereby we recognize the diverse heritage and culture present in Loyalist Township. As part of this celebration, we hope to engage the communities present in Loyalist through various activities, seminars and community partnerships.
What to Expect?
This year, Loyalist Township will be providing a variety of virtual programs and activities including crafts, educational presentations and a seminar on tracing your ancestry using local and national archives.
When is Loyalist Days?
June 14-18, 2021
Activities
Living in Loyalist Colouring Page
Colour the Historical Site: The Bath Museum and Visitor Information Centre
Word Scramble
Help the Loyalists Unscramble Their Words
Living in Loyalist Colouring Page
Colour the Loyalist historical site: Neilson Store Museum and Cultural Centre
Family Tree Craft
Try this family tree craft
Loyalist Days - Business Profile - Joys Hair and Wellness Company
Joys Hair and Wellness Company
385 Main St Bath Ontario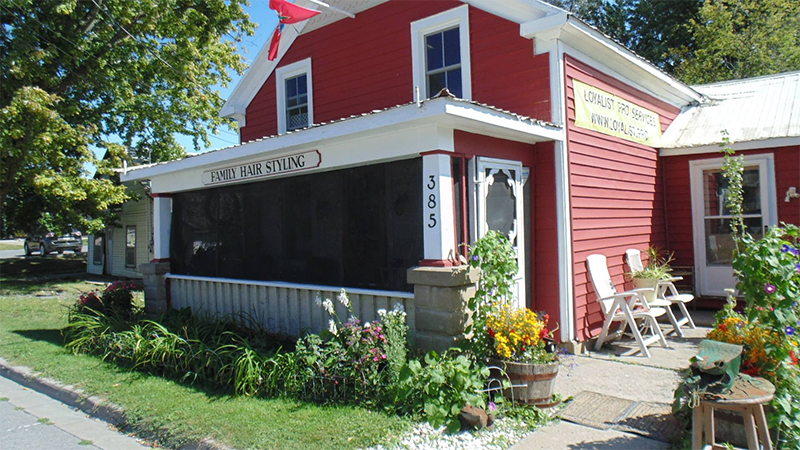 Joy Silver purchased Joys Hair Design in Bath in 1992, 29 years ago, it used to be called Calver House of Hair when Bath was not part of Loyalist yet that happened in 1998. Owning other properties in Loyalist township it was close to home and loved the history of the building being built before 1859 it's used to be the Bath village blacksmith shop property and is seen in the historical photos. Found a few horseshoes over the years that hoping would bring good luck. In 2002 it was renamed Joys Hair and Wellness as I studied natural health and fitness and started helping clients with more than just looking good so many needed to feel better. Now with the combination of hair and health, I enjoy helping my clients get on the road to wellness with amazing healthier products they cannot buy in-store and getting wholesale prices delivered to your door. Personal care products and supplements you use every day over 400 products safer for you and the environment www.countrywellness.ca for more information.

Being an artist clients also enjoy purchasing some of my original artwork that is hanging on the hair salon walls. Over the years I have enjoyed being the hairstylist for generations of many local families and have enjoyed watching the local children grow up and now have families of their own here in Loyalist. In 2012 I took up racing sailboats and made it to the World Championships in 2016 racing for Canada and representing Loyalist and in 2019 USA in the North Americans its a joy to work, live and play on this great lake overlooking Amherst Island in Bath Ontario.
Loyalist Days Crossword
See if you can solve this Loyalist Days crossword puzzle
Living in Loyalist Colouring Page
Colour the Loyalist historical site: Ham House
Heritage Minutes: Richard Pierpont
Video Profile of Richard Pierpont
United Empire Loyalist Flag Raising
Join this virtual event on June 20, 2021 for the United Empire Loyalist Flag Raising
1812 Grave marking at St. Alban's and the UEL Memorial Cemeteries
Join this virtual event on June 19, 2021 for 1812 Grave marking
Loyalist Days - Daniel Fowler
Daniel Fowler Craft Video
Richard Pierpoint Profile
Learn more about Richard Pierpoint, a Black Loyalist that played an instrumental part in the War of 1812
Profile of Konwatsi'tsiaiénni
Profile of Konwatsi'tsiaiénni. One of the most influential Indigenous women in Canadian history
Sharing Loyalist Heritage - Fairfield Homestead Heritage Association
A presentation profiling the Fairfield House