Virtual Remembrance Day Ceremony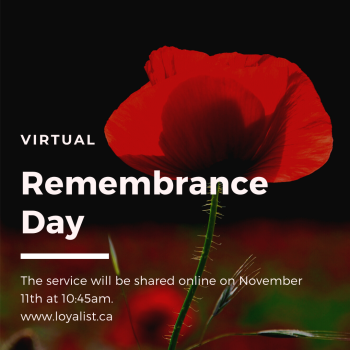 The Lions Club of Odessa & District / Loyalist Township Remembrance Day Service in Wilton will be different this year. Provincial Covid-19 guidelines are discouraging the public to attend in person so we have planned a video stream that can be watched from home.
Regrettably this year's service will be limited to 25 persons by invitation only however, be assured that it will be conducted in the same manner as in previous years. It will include the Act of Remembrance and all wreaths will be placed by Lions Club members. The name of the person or organization will be read out.
The Lions Club of Odessa & District have conducted this Service for over 35 years and strongly believe that those who fought for our country and freedom should always be remembered.
The recording will also be broadcast to the Odessa Lions Facebook page, Loyalist Township Facebook, Twitter and YouTube accounts. We hope that you remain healthy and safe.