Posted on Tuesday, December 01, 2020 10:07 AM
A Township-wide Service Delivery Review was recently completed and presented at the Committee of the Whole meeting on November 2, 2020. The review was completed by Maclaren Consulting Inc. and was made possible through funding from the Province under the service modernization funding for small and rural communities. The objectives of the study were to analyze and evaluate current services and service delivery methods, as well as to recommend opportunities to improve the efficiency, effectiveness,...
Posted on Thursday, November 19, 2020 07:08 AM
A contractor hired by Loyalist Township will be undertaking geotechnical testing in the areas of Scotland, Old Wilton, Maple, Simmons, Absalom, and Doyle roads over the next week. This work involves drilling boreholes and collecting samples to obtain subsurface information. While these activities are underway, there will be a small crew and machinery working on the road. This work may generate some lower-level noise adjacent to the investigation locations however no traffic impacts are expected.
Information...
Posted on Friday, November 06, 2020 12:43 PM
Line painting is scheduled for Tuesday, November 10th along sections of Kildare Avenue & Speers Boulevard.
Pylons - marking the sections that will be painted - will be placed on Monday afternoon. Residents are asked to avoid parking in these sections until painting is complete.
Posted on Monday, October 26, 2020 10:02 AM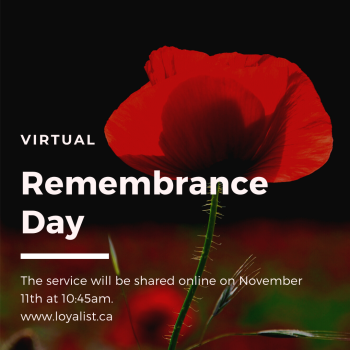 The Lions Club of Odessa & District / Loyalist Township Remembrance Day Service in Wilton will be different this year. Provincial Covid-19 guidelines are discouraging the public to attend in person so we have planned a video stream that can be watched from home.
Regrettably this year's service will be limited to 25 persons by invitation only however, be assured that it will be conducted in the same manner as in previous years. It will include...