Posted on Wednesday, April 07, 2021 08:40 PM
Loyalist Township has started preliminary survey work for future infrastructure projects in the area of County Road 2, Creighton and Potter Drive in Odessa with some work on South Street. Currently the project includes upgrading Potter Drive to Collector Road status and replacement/installation/repair of watermain, sanitary sewer and right-of-way drainage improvements in the area. Loyalist Township in conjunction with local developers and County of Lennox & Addington is investigating other...
Posted on Thursday, April 01, 2021 03:50 PM
On Thursday, April 1st, 2021 the Ontario government imposed a province-wide shutdown that will come into effect at 12:01am on Saturday, April 3rd. At this time, the KFL&A public health region will be under shutdown for at least four weeks. The provincewide emergency brake will put in place time-limited public health and workplace safety measures to help to stop the rapid transmission of COVID-19 variants in communities, protect hospital capacity and save lives.
Facility rentals, recreation programs...
Posted on Thursday, April 01, 2021 10:11 AM

Public Works crews will collect brush throughout mainland Loyalist Township beginning on Monday, April 12. Brush for collection must be placed at the roadside no later than 7:00 am on April 12. Yard waste is not included in this collection.
Each household is allowed a maximum of one half-ton truckload
Allowable brush has a maximum diameter of four inches (4"). Smaller branches must be bundled
Please stack with cut ends facing out (toward the road)
Please do not combine neighbouring...
Posted on Thursday, April 01, 2021 07:55 AM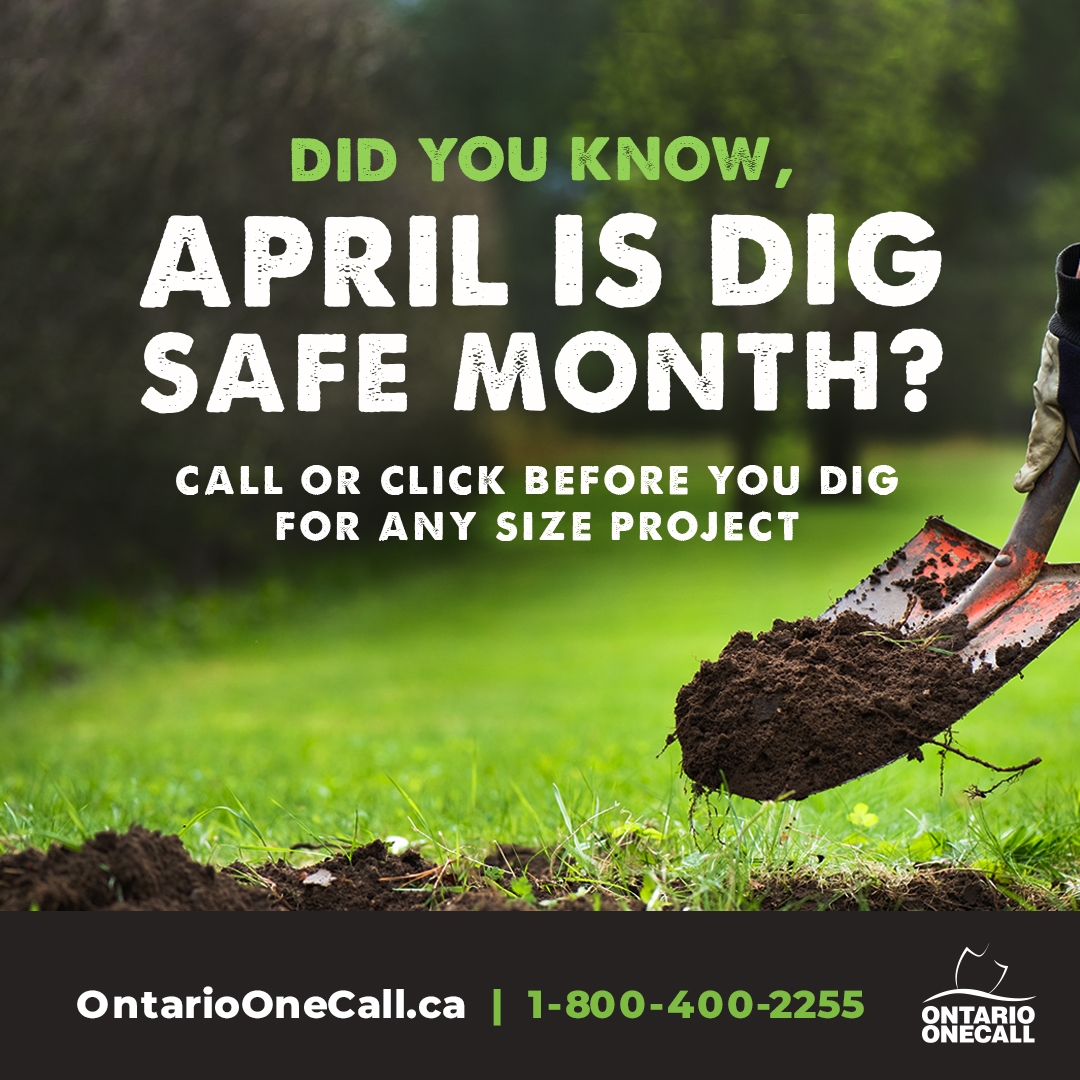 April is Dig Safe Month. Ontario One Call reminds you to always Get the Dirt on All Digs before starting your next outdoor project. Contact Ontario One Call. It's free. It's easy. It's the law.
Are you planning to dig a garden, landscape or fence your lot, dig a patio or pool area, improve your driveway, repair your home's foundation, or add a porch, deck, or room to your home? Before you break ground on any project, you must get locates for any infrastructure that may be hidden underground.
Posted on Friday, March 26, 2021 12:40 PM
Infrastructure upgrades along Chesterfield Drive, Tareyton Road and Bakers Lane in Amherstview are expected to begin in the spring of 2021.
Loyalist Township is hosting a virtual information session for the community to learn more about the project on April 1, 2021. At this session Township staff will present design details and other project information and will be happy to answer any questions you might have.
Virtual Information Session Details
Date Time:
Apr 1, 2021...