Posted on Monday, March 08, 2021 02:59 PM
Annual street sweeping operations began the week of March 8th. With warmer weather forecasted, crews will begin the initial clean up of Township roads.
Crews will begin in Odessa the week of March 8th and will move to Bath and Amherstview over the next few weeks (weather depending). Operators will be concentrating on bulk removal.
Crews will return to areas where snow banks are still present in a couple weeks when the snow banks have receded further. Boulevards and sidewalk sweeping is...
Posted on Friday, March 05, 2021 11:14 AM
Each year - in accordance with Township By-law 2003-12 - we put weight restrictions on all Loyalist Township roads from March 1 until April 30.
Reduced load restrictions help protect the road bed during times when the ground is soft due to thawing.
Visit our Seasonal Load Restrictions page to learn more.
Posted on Monday, March 01, 2021 06:00 PM
Fare collection aboard the Amherst Island Ferry will resume March 8, 2021. Please note the following changes:
Passengers will be required to wear a non-medical mask or face covering, during fare collection. As the purser approaches the window of your vehicle, please have your ticket / cash ready, show it to the purser and follow their instruction to deposit in the collection bucket. Any tickets or cash observed to be held between your lips will not be accepted.

The cost of fare for cars, trucks...
Posted on Tuesday, February 23, 2021 12:13 PM
On February 8th, the Kingston, Frontenac and Lennox & Addington region moved back to the Green zone of the COVID-19 Response Framework. At that time, Loyalist Township announced a phased-in resumption of several municipal services. On Monday, March 1st Loyalist Township has planned the resumption of more in-person municipal services.
W.J. Henderson Recreation Centre
Beginning on March 1st, the W.J. Henderson Recreation Centre will resume offering...
Posted on Friday, February 19, 2021 09:04 AM
The Ontario Heritage Trust Recognizes Local Citizens With Lieutenant Governor's Excellence in Conservation Heritage Award
Bath—The Frontenac Heritage Foundation is pleased to see that the commitment to the restoration of the Ham House in Bath by Bonnie Crook and Ron Tasker has been recognized by the Ontario Heritage Trust with a Lieutenant's Governor's Excellence in Conservation Heritage Award.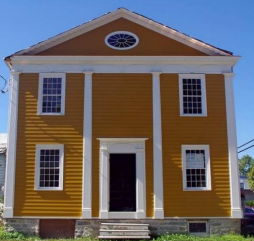 Mayor Ric Bresee states: "The old Ham House was rapidly declining, and even at risk...