Posted on Friday, April 30, 2021 12:47 PM
UPDATE (May 28, 2021) - The French Public School Board of Eastern Ontario formally under the name of Conseil des écoles publiques de l'Est de l'Ontario (CEPEO) announces that the public meeting of May 25, 2021, on the adoption of EDC by-laws in the Kingston area has been postponed to a later date. Loyalist Township will therefore not apply the $300 education development charge rates on May 31, 2021.
---
Qualifying school boards can impose EDCs to pay for land acquisition and site...
Posted on Wednesday, April 28, 2021 02:40 PM
Loyalist Township is once again organizing some events for National Youth Week (May 1-7). This year we're running 4 virtual events.
Pre-registration is required (account needed – can be created during registration) and can be done through loyalisttownship.perfectmind.com or by visiting our Virtual Programs page.
The four events are:
Yoga (Tuesday, May 4th 6-6:45pm)
Forest Bathing 101 with Among the Trees (Thursday, May 6th at 4-4:45pm)
Overnight Oat Recipe Demo in partnership...
Posted on Wednesday, April 28, 2021 08:13 AM
Effective Friday April 30, 2021, Loyalist Township Emergency Services will be lifting the total burn ban and be replacing it with a partial burn ban.
Under the partial burn ban, Campfire & Cooking Fires will be permitted as identified in By-Law 2020-025.
Before you have a fire, you should read the by-law so you understand all the regulations involved in having a safe and legal fire.
For additional information, visit our open-air burning and wildland fires page.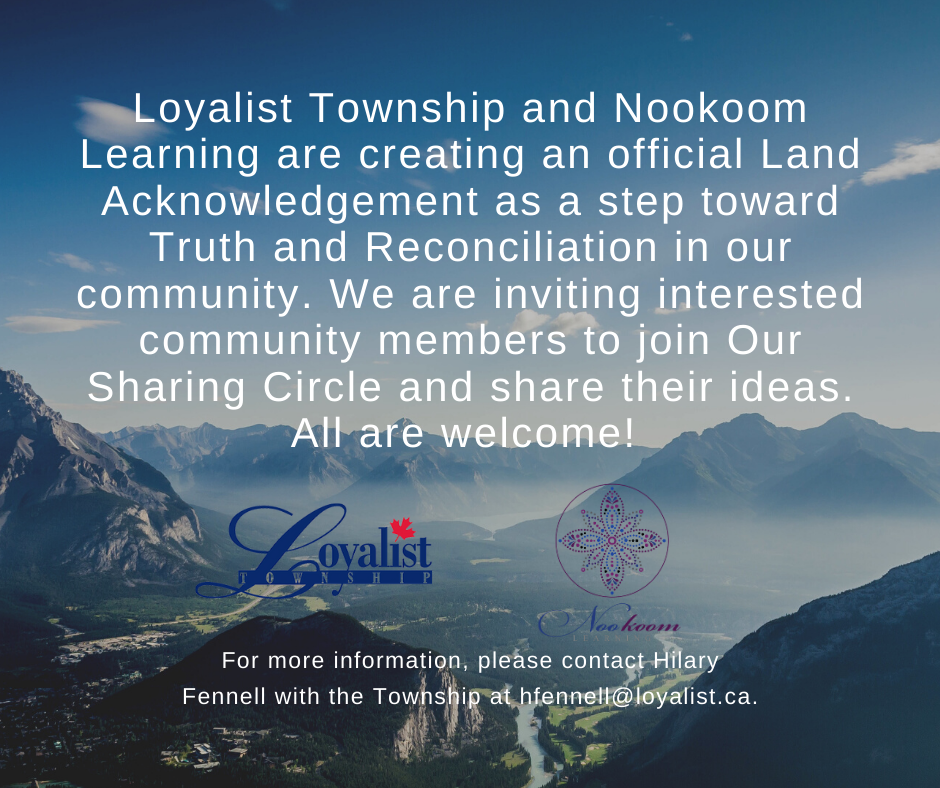 Posted on Tuesday, April 27, 2021 03:14 PM
Loyalist Township and Nookoom Learning are creating an official Land Acknowledgement as a step toward Truth and Reconciliation in our community.
We are inviting interested community members to join our Sharing Circle and share their ideas.
All are welcome!
For more information, please contact Hilary Fennel with the Township at hfennell@loyalist.ca.
Posted on Wednesday, April 21, 2021 09:30 AM
Under Environmental Compliance Approval (ECA) agreements issued by the Ministry of Environment, Conservation and Parks (MECP), Loyalist Township is required to report annually on the values/parameters indicated in the ECAs for both operated facilities in Amherstview and Bath.

The report covers the period of January 1st to December 31st, 2020 and is prepared and submitted to the MECP by March 31st and to Council.