Posted on Friday, November 06, 2020 12:43 PM
Line painting is scheduled for Tuesday, November 10th along sections of Kildare Avenue & Speers Boulevard.
Pylons - marking the sections that will be painted - will be placed on Monday afternoon. Residents are asked to avoid parking in these sections until painting is complete.
Posted on Thursday, November 05, 2020 08:35 AM
Loyalist Township has an agreement with Service Line Warranties of Canada (SLWC), a provider of homeowner emergency repair programs, to provide optional and voluntary service plans to residents in Loyalist Township.
Residential property owners will soon receive mailings from SLWC about water service line and sewer/septic line coverage available to Loyalist homeowners. The first mailing will be mailed on November 12, 2020 with a follow up mailing on November 26, 2020.
Posted on Monday, October 26, 2020 10:02 AM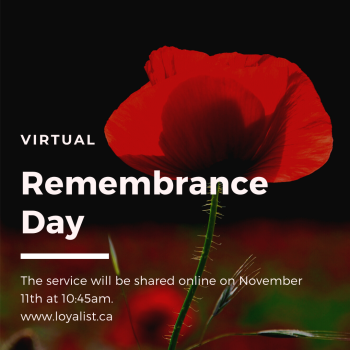 The Lions Club of Odessa & District / Loyalist Township Remembrance Day Service in Wilton will be different this year. Provincial Covid-19 guidelines are discouraging the public to attend in person so we have planned a video stream that can be watched from home.
Regrettably this year's service will be limited to 25 persons by invitation only however, be assured that it will be conducted in the same manner as in previous years. It will include...
Posted on Thursday, October 15, 2020 10:26 AM
In accordance with the Ontario Building Code Act, S.O. 1992 Chapter 23 7.(7) & (8), notice is hereby given for a public meeting to be held virtually on Monday, November 23, 2020, to receive public input regarding proposed changes to fees in the Loyalist Township Building By-law. A draft copy of the by-law may be accessed at www.loyalist.ca/buildingbylaw. Comments and concerns may also be submitted by email to the Chief Building Official until noon on November 10, 2020.
Building Division
Economic...