Posted on Tuesday, September 01, 2020 03:16 PM
The Community and Customer Services Department would like to thank the residents and community leaders who have been a part of creating history and progress within Briscoe Park, Bath. We appreciate the inquiries that you have made related to the recent playground enhancements.

We wish to extend our sincerest apologies for the delay in our response to your questions and concerns. We have faced challenges in finding the information that you deserve, and we regret that we have not been able...
Posted on Thursday, August 27, 2020 04:03 PM
Beginning August 31, Kingston Transit will increase service, resume front-door boarding and fare collection.
The #10 bus serving riders from Amherstview - Kingston will be returning to pre-pandemic schedules. There are minor adjustments to arrival and departure times on some routes.Updated schedules are available at KingstonTransit.ca/Schedules and on Google Maps, TransitApp or Moovit app.
Front door boarding and fare collection
Front-door...
Posted on Wednesday, August 19, 2020 04:06 PM
Please be advised that as of Saturday, August 22 at 10 am residents of Amherst Island may drop off brush at the Amherst Island landfill during regular operating hours. Residents are advised that there is a maximum diameter limit of 200 mm and only brush is permitted. The landfill attendant will direct residents to the new brush drop off area.

Township residents may also drop off yard waste and brush at the Kingston Area Recycling Commission (KARC) located at 196 Lappan's Ln. Construction materials...
Posted on Friday, August 14, 2020 04:12 PM
The following Township beaches are unsafe for swimming and have been closed temporarily:


KFL&A Public Health monitors the water quality at municipally owned or operated public bathing beaches within our area in accordance with the Ontario Beach Management Guidance Document.

Signs warning against swimming are being posted.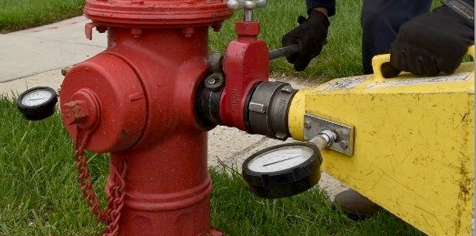 Posted on Thursday, August 13, 2020 04:33 PM
During the warmer months of the year, Utilities staff undertake a program of flushing all watermains in the Township's distribution systems. Flushing the watermain helps clear sediments that collect in the pipes through normal use and improves water quality.

In 2020, the watermain program has been completed in Bath. Flushing in Amherstview begins on Monday, August 17.

When the sediments are stirred up in watermains, residents may notice that the water in their home develops a brown or yellow tinge....