Posted on Monday, May 16, 2022 10:19 AM
Please be advised of a temporary road closure of Townline Road between Big Creek Road and Storey Street on May 18.
This complete road closure will allow Public Works to replace a cross culvert on Townline Rd between Big Creek Rd and the railroad tracks.
The work is expected to take 1 day.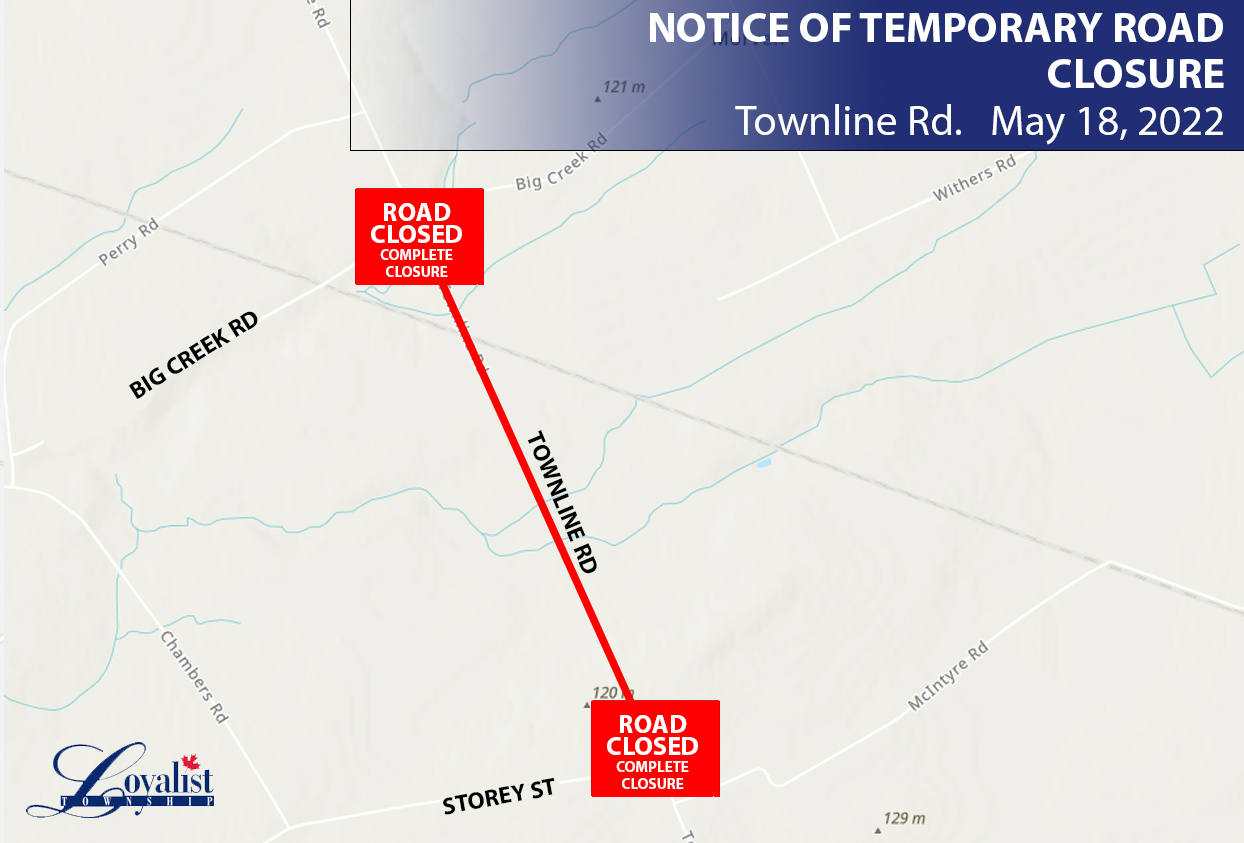 Posted on Monday, May 16, 2022 10:00 AM
On Monday, June 13, 2022, at 7:00 p.m. or shortly thereafter, Loyalist Township Council will hold a virtual Statutory Public Meeting to consider an Industrial Community Improvement Plan and a Brownfield Community Improvement Plan.
The purpose of the virtual public meeting is to provide the public with an opportunity to understand and comment on the proposed Plans.
Purpose and Effect of the Community Improvement Plans
The purpose of the proposed Community Improvement Plans is to assist in the revitalization...
Posted on Thursday, May 12, 2022 08:30 AM
The County of Lennox & Addington and its four Lower Tier Municipalities (The Town of Greater Napanee, Loyalist Township, The Township of Stone Mills and The Township of Addington Highlands) have engaged the services of Wagar & Corput Weed Control Inc. for the application of herbicide to control vegetation at all guiderail locations, and control noxious weeds along the municipally owned right of ways. This pesticide use falls under Public Works Exception of the Cosmetics Pesticides Ban for...
Posted on Wednesday, May 11, 2022 10:18 AM
Please be advised that, due to the normal wastewater maintenance schedule that is done annually, the south aeration cell at the Amherstview Water Pollution Control Plant (sewage plant) is being emptied of sanitary sludge, cleaned, and inspected. The work is necessary to ensure that the sewage effluent (the treated liquid that flows out of the plant) continues to meet Ontario standards.
Due to this work, residents may notice a sewer odour for short periods of time throughout the day. We apologize...
Posted on Tuesday, May 10, 2022 09:47 AM