Posted on Friday, November 10, 2023 10:06 AM
During the Special Council Meeting on November 9, 2023, Loyalist Township Council endorsed the renewal of the W.J. Henderson Recreation Centre which will include the construction of a new aquatic facility.
During the meeting, Council received a Validation Report which summarized the proposed design for the W.J. Henderson Recreation Centre Renewal project along with the costs, strategies, and timelines for the implementation for the first phase of the project.
This project phase represents an...
Posted on Monday, October 02, 2023 03:53 PM
(October 29, 2023 – Odessa, ON) Loyalist Township is teaming up with the Odessa Agricultural Society to co-host a Halloween event for families this fall!
The fun will take place on October 29th from 1:00 – 4:00 p.m. at the Odessa Fairgrounds located at 231 Main Street, Odessa, ON. All activities will be free of charge.
The Odessa Agricultural Society will be hosting their traditional festive activities inside the Palace which will include Halloween games and crafts.
For the second year in a row,...
Posted on Friday, December 01, 2023 11:00 AM
Please be advised of an upcoming road closure in Bath on Thursday, December 7th, 2023, from 4:00 p.m. until approximately 9:00 p.m. for A Verry Merry Main Street Event hosted by the Bath Business Bureau.
Streets affected by road closure
The road closure will affect the following streets:
A full road closure will be set-up along Main Street, between Lodge Street and Church Street.
An additional road closure will take place along Davy Street South and Davy Street North between Main Street and Queen...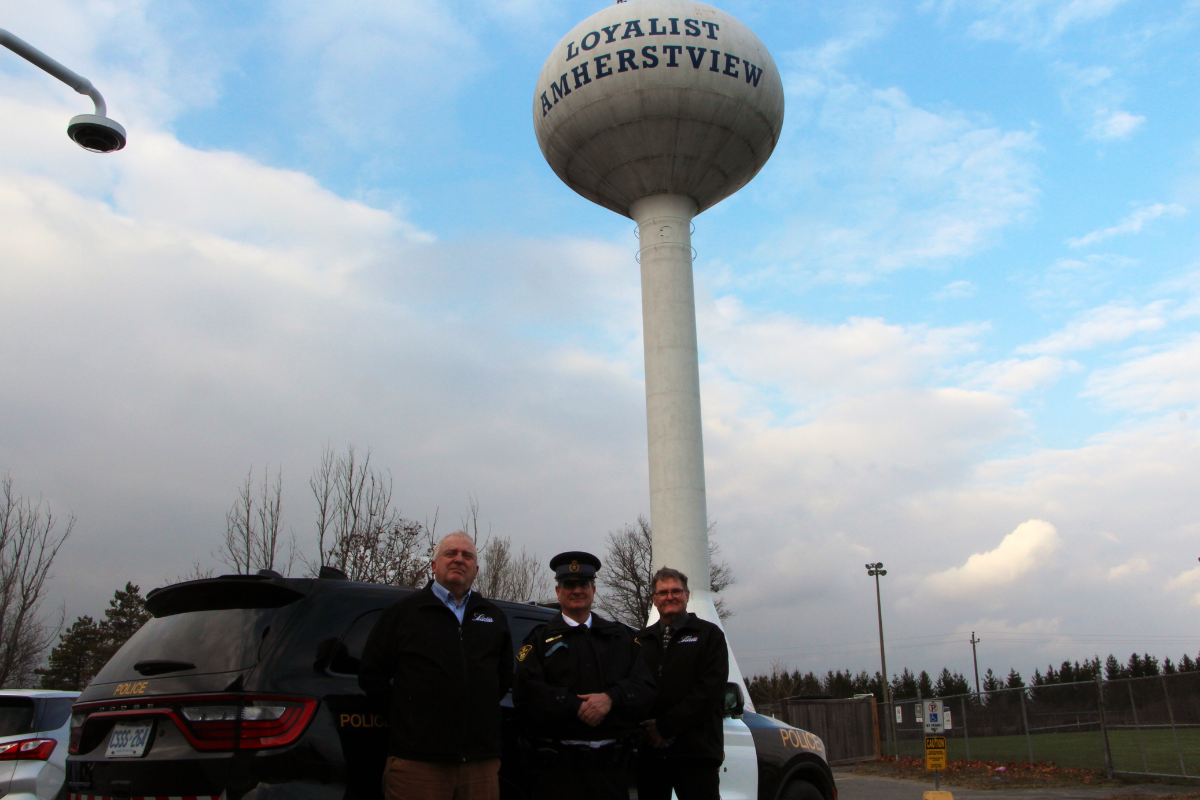 Posted on Thursday, November 23, 2023 04:25 PM
Left to right: Councillor Paul Proderick, Detachment Commander John Hatch and Mayor Jim Hegadorn standing in front of the Amherstview water tower located next to the Leisure & Activity Centre where facility security cameras have recently been registered as part of the CAMSafe program in Loyalist Township.
(Amherstview, ON) On Wednesday, The Lennox and Addington County detachment of the Ontario Provincial Police (OPP) met with Loyalist Township officials at the Leisure & Activity Centre in...

Posted on Wednesday, November 22, 2023 07:25 PM
Annual Inspection
In April 2023, Lloyd's conducted their scheduled annual inspection on our current vessel, Frontenac II. Lloyd's is a recognized organization (RO) with an authorization agreement with Transport Canada to inspect and certify vessels. There were some items to correct identified by Lloyd's in their Final Attendance Report (FAR). Since then, Loyalist Township has been working with the Ministry of Transportation, Ontario (MTO) to correct those items and to date, most of them have...