Bath Canada Day Volunteers
The success of the beloved annual event is made possible by the help of amazing volunteers. Donate your time by joining the volunteer team for this year's celebration! Volunteers will receive a souvenir tee-shirt, proudly sponsored by Lafarge Canada Inc., and community service and high school volunteer hours if applicable.
Volunteers have multiple opportunities:
set-up and take-down
clean-up
parking attendants
parade marshals
welcome booth attendants
kids zone attendants
market vendor attendants
and more!
All volunteers must be able to attend one of two mandatory training sessions located at the Pickleball Courts on Church Street (across from St John's Hall):
Session One - June 28: 6:00 p.m. to 7:30 p.m.
Session Two - June 29: 1:00 p.m. to 2:30 p.m.
Bath Canada Day Volunteer Application
Volunteer applications must be submitted by Monday, June 19, 2023, so apply now to be part of the Bath Canada Day Volunteers Team!

Township volunteer opportunities
Are you looking to get involved? What better way than to become a volunteer!
Volunteers contribute to the overall health, vibrancy, and sustainability of the community and to the effective delivery of programs, services, and events.
Loyalist Township is looking for friendly and outgoing individuals who are interested in having some fun while lending their time, energy, enthusiasm, and skills to support initiatives in our beautiful community!
Get involved, meet new friends, and give back to your community today!

Become a volunteer
It is easy to become a volunteer!
Complete the Volunteer Interest Form.
Review the Volunteer Handbook.
And a staff member will contact you to discuss the volunteer opportunities available
Need a hand? No problem. Call or email us and we will be happy to help.
Volunteer training
We value our volunteers and we are committed to providing them with the support and resources they need to succeed!
This Volunteer Handbook has been designed to provide guidelines to help you in your volunteer role. All volunteers are required to review the Handbook before volunteer work begins. In some circumstances, further training may be required.
Volunteer requirements
Volunteers must be 14 years of age or older to apply.
A Volunteer Parent/Guardian Waiver Form must be completed for volunteers under 18 years of age.
A satisfactory Criminal Reference Check and/or a Vulnerable Sector Screening may be required depending on the volunteer task.
Volunteers must complete any mandatory training before their volunteer work begins.
Please note: Some volunteer opportunities may include additional requirements.
Volunteer criminal record check
Volunteers can apply for a Criminal Reference Check through the Ontario Provincial Police (OPP). The OPP does not charge for checks for volunteer purposes.
Need a hand? No problem. Call or email us and we will be happy to help.
Types of volunteer opportunities
There are tons of ways to get involved and give back to our community! Contact us to learn more about the opportunities available for volunteers, including:
Recreation programs
Community events
Beautification
Museums and historical sites
Volunteer firefighting
Do you have a passion for safety and a desire to support your community? Volunteer with the Loyalist Township Emergency Services team! Learn more about our emergency services volunteer program and complete the online application form.
Committees of Council
Committees provide advice and recommendations to council on a variety of topics, including heritage, recreation, and community development.
Are you interested in learning more about our advisory committees of Council? Visit our CivicWeb portal to find out more about each committee, upcoming meeting dates, and agendas/minutes.
Community volunteer opportunities
Are you a community group, not-for-profit organization, or service provider in Loyalist Township? Are you doing something great for our community and in need of volunteers? Let us know and we may be able to help advertise through our corporate channels!
For more information please contact the Heritage, Culture and Tourism Division at the contact information found on the right.
Volunteer appreciation and awards
Loyalist Township is fortunate to have many people who volunteer their time to make a positive impact on the community through projects, initiatives, events, and goodwill service.
We are proud to help recognize and honour the many individuals and community groups in Loyalist Township for their outstanding contributions and achievements!
The Bill Lowry Volunteer Award is given to one individual or group who has shown exceptional service to the community.
Bill Lowry Volunteer Award 2022 - Paul Proderick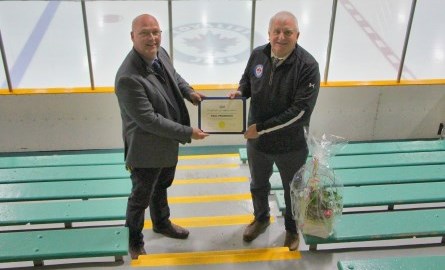 Congratulations to Paul Proderick, the 2022 winner of the Bill Lowry Volunteer Award!
---
Photo: Paul Proderick receiving the Award from Mayor Ric Bresee (now MPP for Hastings-Lennox and Addington
2022 Nominees
Congratulations to the following volunteers who were nominated for the 2022 Volunteer Appreciation and Awards! We thank you for your continued service and dedication that help make our community shine!
Gail Burtch
Gail started volunteering with Lennox & Addington Special Olympics as a basketball coach during her 20-year tenure as a School-to-Community teacher at NDSS. What started as a school team became a staple in the L&A community, along with multiple other sports. She sits on the L&A Special Olympics Council as Secretary and communicates with local agencies such as Community Living and Ongwanada to ensure our athletes with intellectual disabilities are supported. Gail is also a Lionheart's volunteer with her husband and participates in food pick-up and drop off programs in Amherstview.
Peter Field
Peter has been a staple in the Loyalist community as a volunteer for decades. Peter recently retired after 41 years of service with Loyalist Fire and Rescue and volunteers with the Agricultural Society and helps plan the Odessa Fair as well as the upkeep of the Odessa Fairgrounds. He is always willing to spearhead fundraisers for Loyalist locals as the need arises.
Ida Gavlas
Ida is a dedicated island resident who has made great strides to bring a medical centre to the island. She is loyal to her community and is always seeking out new ideas she and the community can contribute. Ida auctions off her homemade pies to raise money for the medical centre. Her caring spirit is unforgettable. Ida is also a past Loyalist Township employee who dedicated her time to the community even before her volunteer work.
Judy Janzen
Judy has tirelessly worked to ensure that during the Winter months Pickleball play is available. She ensured that recreational play continued safely throughout the pandemic by collecting vaccination information, providing sign-in sheets, COVID screening, and ensuring masking mandates along with hand sanitizer. Her actions helped lessen social isolation and provided a safe outlet for exercise and community. She sets up the courts for Pickleball every Tuesday and Thursday as a volunteer.
Barb Johnson
Barb is another key member of the Amherstview Lions Club, who joined alongside her husband, Bruce Johnson, back in 2014. Barb serves as the Club Secretary and her dedication as secretary ensures information about the club's activities is communicated to the public through club and Township channels, keeping members updated on events, initiatives, and happenings within Amherstview. She continually goes above and beyond her duties as the secretary to ensure that the community's needs are met.
Bruce Johnson
Bruce is a key member of the Amherstview Lions Club, currently serving as the group's Club Treasurer, and has been a club member since 2014. Bruce typically volunteers 5-10 + hours a week with the club managing their finances and contributing to Lions community activities. Bruce's financial expertise was especially noted over the past two years of the pandemic as his efforts to maintain a robust financial plan allowed the Amherstview Lions the ability to assist the community as the needs were and continue to be presented, helping achieve their mandate of WE SERVE.
Laurie Minorgan
Laurie is known for her leadership within the Bath Gardening Club, whether it be leading the beautification of Bath in the Winter months, organizing the mixing and distribution of the club's fertilizer sale, or looking after the group's finances. Laurie also volunteers her time to the village by dedicating her time to the planning of Bath Canada Day.
The Lions Club of Odessa & District
The Lions Club of Odessa & District continues to have a very positive impact on the community by providing those in need with much-needed assistance as well as helping the Loyalist community at large for the last 48 years. From coordinating the yearly Remembrance Day Service in Wilton with the Canadian Forces School of Communications and Electronics to their yearly Christmas Basket Campaign, snowsuit drives, student bursary creation, community luncheons, and assistance for those facing financial hardship, etc. The members of the Odessa Club are always available when called upon.
David Pickering
David is well known on Amherst Island for many reasons including his work as the acting Treasurer for the Amherst Island Radio Station and The Men's Society, being a Committee Member for the Amherst Island Medical Clinic and The Amherst Island Community Alliance and being the local friendly face that drives residents to their medical appointments several times a week.
Paul Proderick
Congratulations to this year's Bill Lowry Award recipient, Paul Proderick!
Paul has been a member of the Loyalist Township Minor Hockey Association (LTMHA) for the past ten years, serving as President the past five and as Vice President the preceding five years.
His contributions to LTMHA and the Township community span over a decade and include many initiatives including spearheading the return of play format in the off-season of Summer 2022 for kids impacted by social isolation, introducing new hockey programs, mentoring, and countless other efforts, many of which having him volunteer more than 40 hours a week over the past ten years.