Mobility Mandate
Loyalist Township is committed to providing accessible transit services to areas that are currently being serviced by traditional transit. As in keeping with this mandate, Loyalist Township is partnering with Kingston Area Taxi Commission (KATC) to provide accessible transit services to Amherstview. View the service area map.
The details of operation and how to apply are as follows: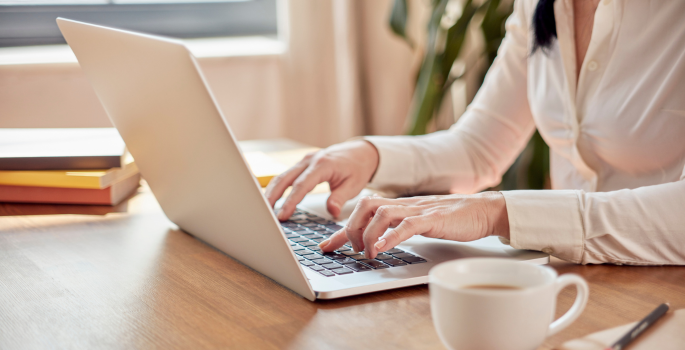 Apply Now
To apply for an Accessible Transit Pass, please click the link above. Instructions on how to complete and submit the form will be outlined.
If you require the application form in an alternative format, please contact the Loyalist Township Municipal Office at
613-386-7351
, ext. 116.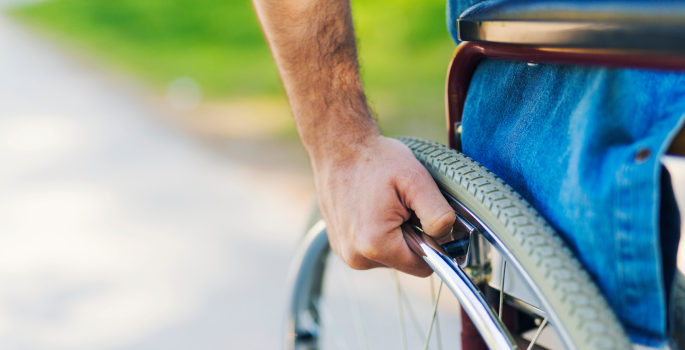 Registration Information
To find more information about registration including eligibility criteria, companions and support persons, appeals, cost, service area, etc. follow the link above.
If you have questions, please contact Loyalist Accessible Transit by emailing:
lat@loyalist.ca
Booking/ Cancellation
To discover more information about how to book or cancel accessible transit, please review the tabs below:
Booking Rides
Registered clients may book an accessible taxi trip up to 60 days in advance. Same day reservations are also accommodated, based on availability. All bookings are made on a "first come, first served" basis, based on availability.
To book a taxi reservation call: 613-547-3763 and follow the prompts to reach the accessible taxi broker.
When booking, please provide the date & time of your reservation, the type of mobility device you will be using and if companions, service animal or domestic pet will be riding with you.

If you are attending an appointment, also provide your appointment time to ensure sufficient time is factored into your pick-up time.

Passengers travelling to locations with multiple entrances are requested to provide the exact drop-off/pick-up location, at the time of booking.

Please also schedule your return trip, if necessary.
While we endeavour to accommodate all trips, there may be times where we will not be able to meet your requests. KATC does maintain a wait list in the event an opening becomes available.
Passengers are to be ready 5 minutes before their booked pick-up time. Drivers may arrive within a "window" of 5 minutes BEFORE or AFTER your booked pick-up time. To ensure other passengers are not inconvenienced, drivers are not required to wait more than 15 minutes for passengers provided they arrive within the "window" time.
Cancelling Rides
To accommodate as many trips as possible, passengers need to provide as much notice as possible when cancelling a trip so that we may attempt to accommodate other passengers.
Excessive cancellations with less than 24-hour notice and/or failing to show for a scheduled booking may result in progressive actions up to and including limitations on booking privileges.
Failure to Cancel
Should you fail to cancel your reservation before our driver arrives, the incident will be recorded. Passengers who fail to provide notification of cancellation several times will have their eligibility reviewed and could face discontinuation of service.
Operations
Vehicles
Our vehicles come equipped with seatbelts and wheelchair restraint systems. For the safety of everyone involved we require that passengers must make use of the safety belts and restraint systems provided.
Passengers shall be able to book a 762mm (30 inches) or 838mm (33 inches) wheelchair accessible van.
Mobility Devices
In the interests of safety, mobility devices must be in good condition. Otherwise, transportation will not be provided.
In the interests of your safety, if you ride a scooter, you will be required to transfer to a seat in the van for the duration of the trip. To be transportable your scooter must be able to be loaded and safely secured within the vehicle.
Personal Luggage
Groceries, parcels, and other small items may be brought with you on the transit service. Drivers may assist with carrying personal items to/from or on/off the accessible vehicle, if requested. Any fees applicable to this service are the responsibility of the passenger.
Schedule
Loyalist Township Accessible Transportation is available 24/7, 365 days per year.
Map
Loyalist Township accessible transit provides service within the area illustrated on the map below: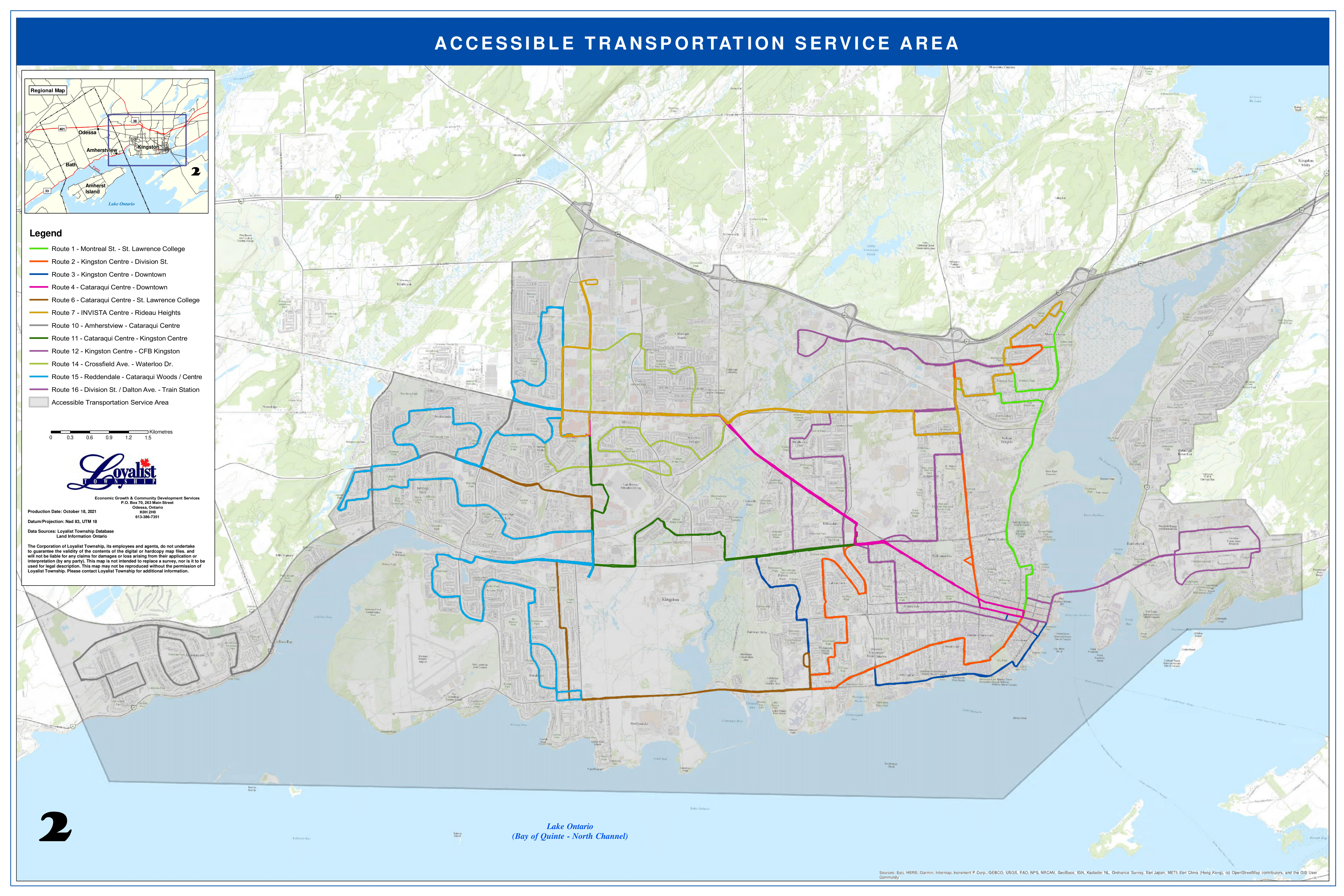 Rules for Using Accessible Transit
Ambulatory Passengers
Loyalist Township Accessible Transportation reserves the right to require ambulatory passengers who are unsteady or cannot ambulate to/ from the vehicle in reasonable time to use a wheelchair for transportation. The passenger is responsible for providing a wheelchair to use.
Driver Assistance & Ride Preparedness
KATC drivers will assist passengers with safely entering and exiting the vehicle. Passengers are to be ready at the exterior door with coats, boots, etc. already on.
Residence Laneways, Driveways & Ramps Maintenance
It is the responsibility of the passenger to ensure that laneways, driveways, ramps, etc. of residences (including multi-residence apartment units) are maintained in safe condition and clear of snow/ice. Failure to do so may result in transportation being denied.
Personal Items & Driver Assistance with Carrying Items
Personal items (i.e. luggage, parcels, groceries) are limited to those which the passenger, support person, or companion can handle without assistance from the driver and be safely secured by the passenger.
Drivers may assist with carrying personal items to/from or on/off the accessible vehicle, if requested. Any fees applicable to this service is the responsibility of the passenger.
Service Animals & Pets
Passengers travelling with a service animal or domestic pet must advise at the time of booking. Domestic pets are permitted and must be leashed or in a carrier.
Behaviour
Verbal abuse, physical abuse, or unacceptable behaviour on the part of passengers, those travelling with passengers, or those responsible for passengers, towards any Loyalist Township or KATC employee (including drivers and office staff) will not be tolerated and may result in suspension of registration and police being notified.
Additional Links
Questions?
Questions can be directed to:
Loyalist Accessible Transit
lat@loyalist.ca