Loyalist Township has a "pay as you throw" system for garbage, meaning that you need to purchase garbage bag tags. Every bag of garbage needs a bag tag when it's put out at the curb. Garbage bag tags are $2.50 each, and we sell them for $25 for a sheet of ten tags.
The tag needs to be wrapped around the top of the bag and stuck back to itself. Both ends of the tag and serial number must be visible.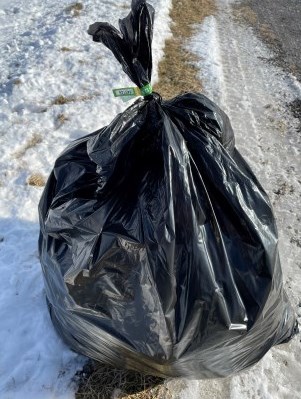 If in a can, the tag must be visible and attached to the top bag, not affixed to the can.
Where can you buy bag tags?
Online
For added convenience, garbage bag tags can now be purchased online. Tags are sold in sheets of 10. Payment can be made by Visa or MasterCard. Bag tags purchased online will be delivered by mail within 5-10 business days.
Amherst Island
Any mainland bag tag distributor or online
Amherstview
Amherstview Convenience, 4499 Bath Rd, 613-384-2197
Amherstview Foodland, 7 Manitou Cres W, 613-389-4184
Amherstview Drugs, 4499 Bath Rd, 613-389-7301
Dollar Way Plus, 18 Manitou Cres W, 613-634-5885
Hunts Pharmacy, 6 Speers Blvd, Unit K, 613-389-8800
Shoppers Drug Mart, 15 Sherwood Ave, 613-389-0344
WJ Henderson Recreation Centre (Monday-Friday 8:30 a.m. - 4:30 p.m.), 322 Amherst Dr, 613-386-7351
Bath
Free Flow Gas Bar, 242 Main St, 613-352-5820
Schells Market, 408 Main St, 613-881-0404
Bath Family Pharmacy, 220 Main St, 613-352-7700
Odessa
Bren Savage and Son Home Hardware, 135 Main St, 613-386-3018
Loyalist Township Municipal Office, 263 Main St, 613-386-7351
Mr. Gas, 1141 County Rd 6, 613-386-7402
Odessa Food Market, 154 Main St, 613-386-3007
Pop-in Food Store, 55 Main St, 613-386-3700
Violet
Violet Landfill, 1346 Violet Rd, 613-386-7351
Wilton
Wilton General Store, 301 Simmons Rd, 613-386-3112