Neilson Store Museum and Cultural Centre Dock Upgrades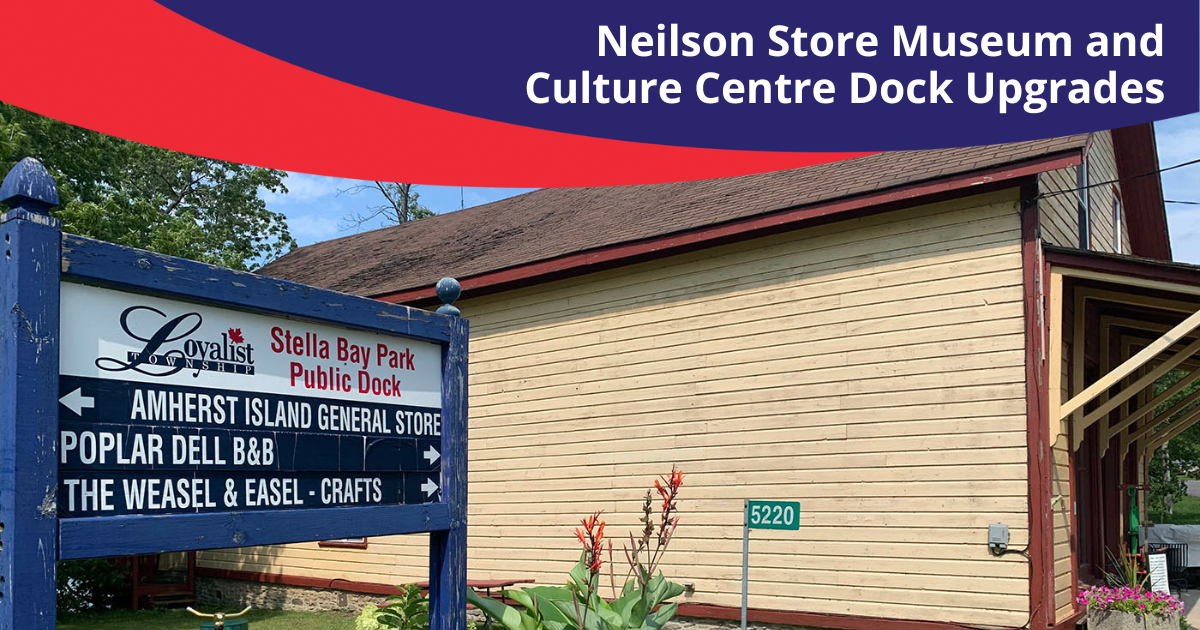 Loyalist Township will be moving forward with repairing & upgrading the dock on Amherst Island located behind the Neilson Store Museum and Cultural Centre on Stella Bay. These repairs and upgrades will improve safety, restore the shoreline, prevent erosion, and improve access. Building on public feedback submitted online and from the drop-in information session held on-site at the Neilson Store Museum & Cultural Centre on Wednesday, August 25, 2021; the upgrades will consist of removing the concrete slab, installing shoreline protection, placing armour stone on shore to the south of the dock, and reinstatement of topsoil and seed. These infrastructure upgrades should lead to:
Shoreline restoration and reduced erosion

Provide safe water access to users of all ages

Quarried stones, landscaped stairs with a rail

Minimal ongoing maintenance
The work was unable to be completed last fall within the permitted in-water work window for Lake Ontario; now, with permits from the Cataraqui Region Conservation Authority and the Ministry of Natural Resources & Forestry in place and Morven Construction awarded the contract, construction is scheduled to begin after Labour Day, Tuesday, September 6, 2022. The project is expected to run until late October.
During the construction, access will be maintained to the docks for swimming and boating while the work area will be fenced off. It should be noted that the contractor will be using the west end of the Neilson Store Museum parking lot during the construction to park equipment needed for the project.
Visit the Infrastructure Projects webpage to learn more about the Neilson Store Museum and Cultural Centre dock upgrades.