Butterflyway Project Pollinator Garden Installed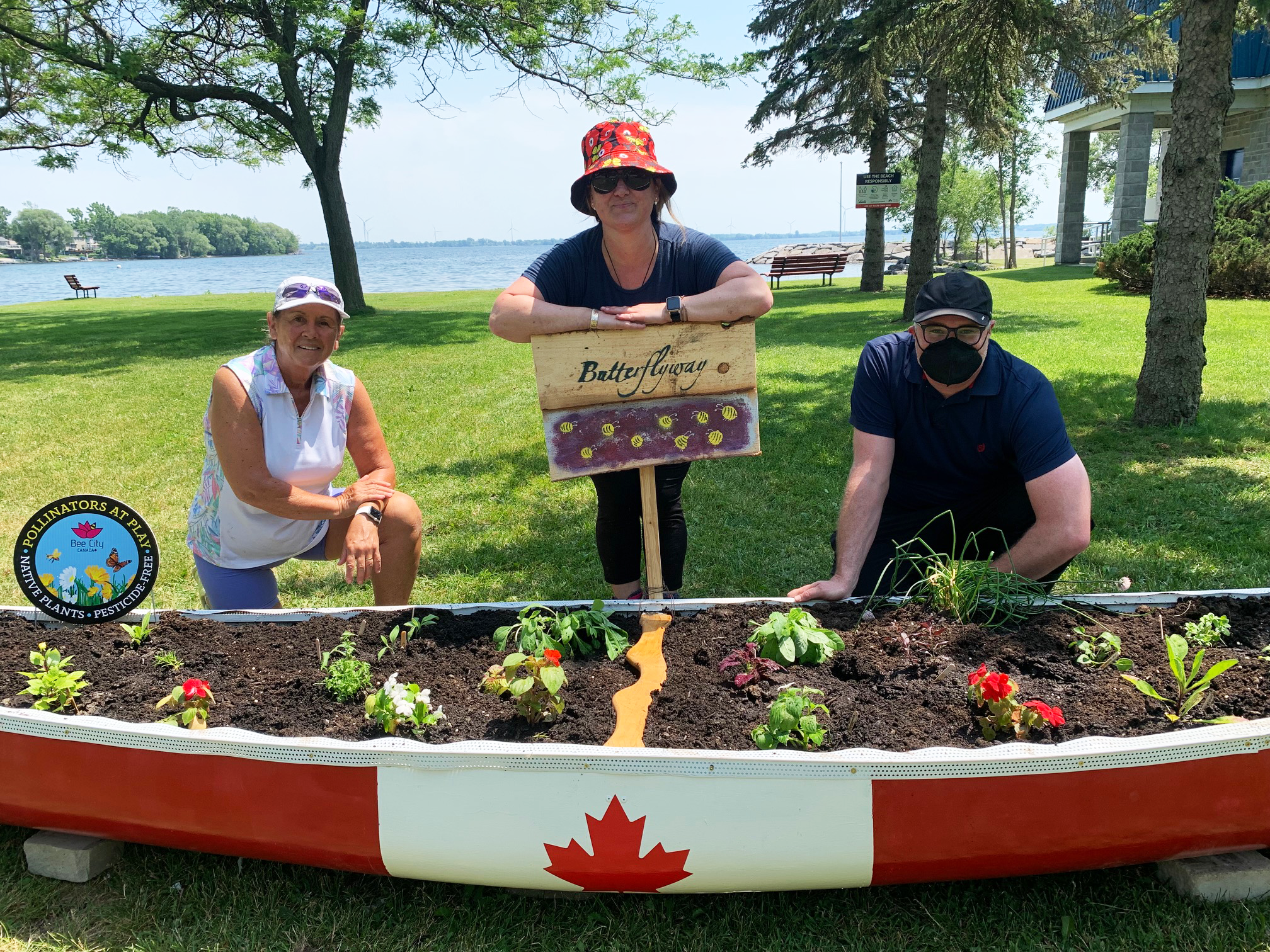 During Pollinator Week, on Wednesday, June 22, the Bath Gardening Club, in collaboration with Loyalist Township, installed a pollinator demonstration garden near the Bath Water Filtration Plant in Centennial Park, Bath, Ontario. The garden is part of a much larger initiative called the "Butterflyway Project" and is housed inside a painted canoe.
The Butterflyway Project is a citizen-led movement growing pockets of habitat for butterflies and bees across Canada. Initially founded by the David Suzuki Foundation, the Butterflyway Project is meant to create habitats to maintain pollinating species as an essential part of a healthy ecosystem. The garden will be run by a trained "Butterflyway Ranger" and Bath Gardening Club volunteer, Melissa Willis, who will care for it during the season and make necessary preparations for the fall and winter months.
"The importance of this garden is far from just decorative. Rather it provides a home for species which serve as a foundation of food systems, and it makes me proud that Bath Gardening Club is part of the work to help protect them," said Willis.
Pollinators have seen significant drops in their population numbers in recent years as a direct result of human activities. This is especially troubling as the majority of crops rely on pollinators in order to exist. A decline in pollinators represents a threat to not just food but medication and other supplies worldwide.
"As someone who has been concerned with the climate for a long time, I was delighted when Melissa came forth and introduced us to the Butterflyway Project. This initiative has provided us a way to fight climate change in solidarity with over 400 communities across Canada and help protect species which are vital to our environment right here in Loyalist Township," said Dan Hendry, Loyalist Township Climate Action Coordinator.
Loyalist Township is proud to be a part of this initiative as it aligns with Goal #4 in the Township's ResiLienT Climate Action Plan; develop a pollinator protection strategy. Residents and those visiting Centennial Park will be able to watch the garden grow and observe the variety of pollinator species it attracts.
"We were happy to be approached about this project and the protection of pollinators. This is an excellent example of how the community and municipal government can come together to make our community a better place to live for everyone and safeguard our environment."
Learn more by visiting Loyalist Township's ResiLienT Climate Action Plan or the Bath Gardening Club's webpages.
Bath Gardening Club and Horticultural Society
The Bath Gardening Club and Horticultural Society has existed since 1990. Their main goals include the beautification of the Village of Bath by use of gardening and horticulture, sharing gardening information with those interested, and promoting gardening as a fulfilling and important activity. The club holds regular meetings, maintains gardens and planters throughout the community of Bath, and is always looking for new members. If you think the Bath Gardening Club and Horticultural Society may be of interest to you, feel free to visit their webpage for more information: https://bathgardeningclub.ca/