New! Stay up to date on collection days. Download the

app at the links below.
Pickup schedules
If you live in mainland Loyalist Township, your recycling is picked up on the same day each week, depending on your area. This map shows the collection areas (select map for larger image).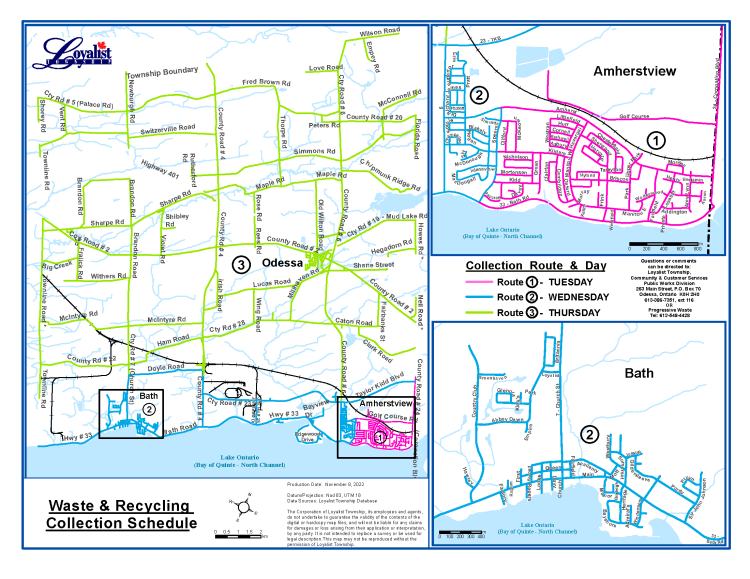 Map Legend: Pink – Area 1 – Tuesday Blue – Area 2 – Wednesday Green – Area 3 – Thursday
Recycling pickup rotates between grey box one week and blue box the next week. Pickup is done by Waste Connections, the Township's contractor. We publish the collection schedule in the Township's municipal calendar.
Changes to schedules
Your pickup day may change If a holiday overlaps with a regular collection day. Sometimes your pickup will be earlier than you're used to. We print regular schedules and changes in our calendar, and changes are listed on our website. Sign up to receive notifications when there are schedule disruptions by downloading the

app.
My recycling wasn't collected
Review the recycling pickup rules below.
Ensure you had the right items out for the correct week.
Review how to properly prepare your recyclables.
If you aren't sure why your recycling was missed, call our office at 613-386-7351, ext. 116.
Recycling pickup rules
Recycling must be at the curb by 7 a.m. and is usually picked up by 5 p.m.
You can put it out at 6:30 p.m. or later the night before.
Pickup schedules alternate between blue box items one week and grey box items the next.
You can also take recyclables to the Kingston Area Recycling Corporation (KARC), 196 Lappan's Lane, Kingston. It is open year-round, Monday to Friday from 8 a.m. to 5 p.m., and Saturday from 8 a.m. to 4 p.m. This is free for Township residents.
Recycling bins
New residents will receive one free grey and blue box per household.
You can pick up recycling bins at the Odessa municipal office.
Extra bins are $8 each.
If your box is damaged, bring it back to the Odessa office and it will be replaced at no charge.
Recycling process
Recycling materials collected in Loyalist Township are processed for recycling at the Kingston Area Recycling Centre. This video shows you what happens to your recycled waste after it is collected at the curb and sorted at the Kingston Area Recycling Centre.
Amherst Island Residents
If you live on Amherst Island, please take your recyclables to the Amherst Island landfill.
What goes in your blue and grey bins?
When you prepare your recyclables properly, you help make sure our drivers can complete their routes efficiently. We have created a handy printable guide you can post in your home to help you sort your recyclables. Download the

app and use the What Goes Where Tool to search more than 15,000 items!
Blue bin
Plastic
YES: Plastic bottles, jars, tubs and lids, cartons, trays, clamshell, and other rigid plastic packaging. All plastic types with a recycling symbol on them are recyclable, regardless of the number in the symbol.
NO: Plastic pails over 10 litres, toys, laundry baskets, storage totes, or large plastics that are not a food, beverage, or household container or rigid package.
Styrofoam
YES: White rigid Styrofoam pieces, no longer than 90cm x 60cm x 20 cm (35" x 23.5" x 7.75").
NO: Coloured or dyed Styrofoam of any size, popcorn Styrofoam, or flexible Styrofoam.
Glass
YES: clear and coloured glass bottles and jars. Return beer and alcohol bottles to The Beer Store or LCBO for a refund.
NO: broken glass, window panes, mirrors, light bulbs, ceramics, drinking glasses.
Aluminum and steel
YES: metal food and beverage cans. Metal lids can be placed inside a can and pinched shut. Labels do not need to be removed. Paper cans with metal ends (i.e., coffee cans, chip cans, nut cans, frozen juice cans, etc.)
NO: Aerosol or paint cans, cooking pots or pans, foil wrap, paper-backed foil (such as takeout container lids), or foil laminates (potato chip bags)
Grey bin
Paper products
YES: newspaper, white paper, coloured paper, colour flyers, catalogues, telephone books, soft cover books, magazines, envelopes, and hard cover books with the cover removed. Place in a clean, untied grocery or paper bag or tie in bundles. This stops the paper from blowing away.
NO: gift wrap.
Plastic bags
YES: grocery bags, milk bags/pouches, frozen vegetable bags, and newspaper sleeves. Place all clean bags into an empty bag and tie shut.
NO: cereal/cracker box liners, plastic food wrap, zipper-type storage bags, diapers, meat/bacon packaging, "crinkly" outer packaging (such as pasta bags), pet food bags, or bubble wrap.
Boxboard and polycoat
YES: cereal boxes, cracker boxes, frozen food boxes, egg cartons, paper towel tubes, drink trays, greeting cards.
Polycoat: Rinse and flatten milk cartons, juice cartons, and Tetra Pak juice boxes. Place together with boxboard.
Boxboard: flatten and bundle or place inside another box.
Corrugated cardboard
Remove staples and tape. Flatten and bundle no bigger than 0.9m x 0.6m x 0.08m (36" x 24" x 8"). Tie bundles with string. There is limit of six bundles per collection. Place bundles beside your Grey Box.
NO: wax-coated boxes or soiled pizza boxes.
Hazardous Waste
NO HAZARDOUS WASTE. Household hazardous waste (HHW) includes products like used motor oil and empty motor oil containers, leftover paint, and chemicals that can't go into the garbage or recycling bin. Our HHW program is managed through the City of Kingston and is free for Loyalist Township residents.
Kingston's HHW depot is at 196 Lappan's Lane. It's open Thursdays and Saturdays from April through November. Check to see what they accept before you go.
Battery Recycling
Loyalist Township has a battery recycling program to help residents safely recycle batteries. Recycling your batteries helps protect your community from materials that may harm the environment if they end up in landfills.
Visit our battery recycling page to find additional information on the Township's battery recycling program.