Garbage
Source separated organics survey
In the fall of 2020, Loyalist Township released a survey to engage with residents on current waste practices and to collect feedback on potential source separated organic waste programs. The survey closed on December 23, 2020. Results and data is currently being analyzed and recommendations to Council will follow based on the input collected. Visit our Climate Action Page to learn more about the development of a Climate Action Plan for the Township.
Pickup schedules
If you live in mainland Loyalist Township, your garbage is picked up on the same day each week, depending on your area. This map shows the collection areas (select map for larger version).
Map legend
Pink – Area 1 – Tuesday
Blue – Area 2 – Wednesday
Green – Area 3 – Thursday
Garbage is picked up every week. Pickup is done by Waste Connections, the Township's contractor. We publish the collection schedule in the Township's municipal calendar.
What if a schedule changes?
Your pickup day may change if a holiday overlaps with a regular collection day. Sometimes your pickup will be earlier than you're used to. We print regular schedules and changes in our calendar, and changes are listed on our website.
My garbage wasn't collected
Review the garbage pickup rules below. If you're not sure why your garbage was missed, call our office at 613-386-7351, ext. 116.
Garbage pickup rules
Garbage must be at the curb by 7 a.m. and is usually picked up by 5 p.m.
You can put it out at 6:30 p.m. or later the night before.
Every bag needs a bag tag.
Each bag must weigh no more than 18 Kg (40 lbs).
The largest bag size is 75 cm x 95 cm (30" x 38").
The largest container size is 77 litres (17 gallons).
Amherst Island residents
If you live on Amherst Island, please take your garbage and recycling to the Amherst Island landfill. Garbage must be tagged or tipping fees will apply.
Bag tags
The tag needs to be wrapped around the top of the bag and stuck back to itself. Both ends of the tag and serial number must be visible.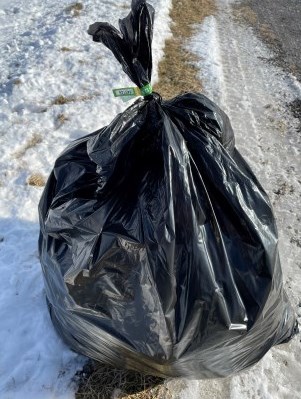 In a can the tag must be visible and attached to the top bag, not affixed to the can.
Where can you buy bag tags?
Amherst Island
McGinn's Amherst Island General Store, 5695 Front Rd, Stella, 613-519-2331
Amherstview
Amherstview Convenience – 4499 Bath Rd, 613-384-2197
Amherstview Foodland, 7 Manitou Crescent West, 613-389-4184
Amherstview Drugs – 4499 Bath Rd, 613-389-7301
Dollar Way Plus, 18 Manitou Cres W, 613-634-5885
Hunts Pharmacy, 6 Speers Blvd, Unit K, 613-389-8800
Shoppers Drug Mart, 15 Sherwood Ave, 613-389-0344
Bath
Free Flow Gas Bar, 242 Main St, 613-352-5820
Heritage Point Antiques, 384 Main St, 613-352-9938
Schells Market, 408 Main St, 613-881-0404
Odessa
Bren Savage and Son Home Hardware, 135 Main St, 613-386-3018
Loyalist Township Municipal Office, 263 Main St, 613-386-7351
Mr. Gas, 1141 County Rd 6, 613-386-7402
Odessa Food Market, 154 Main St, 613-386-3007
Pop-in Food Store, 55 Main St, 613-386-3700
Violet
Violet Landfill, 1346 Violet Rd, 613-386-7351
Wilton
Wilton General Store, 301 Simmons Rd, 613-386-3112