Loyalist Township Emergency Services training division is run by the Assistant Chief - Manager of Training who reports to the Fire Chief and Deputy Fire Chief. Regular maintenance training runs on Tuesday nights, and Wednesday mornings for the 3 mainland stations and Thursday nights for the Amherst Island Station. All firefighting staff are required to participate in a minimum of 60 hours of maintenance training annually.
In addition to regular maintenance training, we conduct specialized courses such as officer development training. Training on new skills and techniques occurs throughout the year.
Fire Training Centre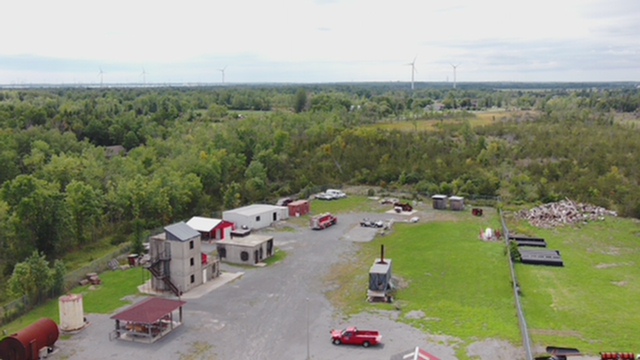 Loyalist Township operates its own training facility, the Fire Training Centre, complete with class A structural fire, vehicle fires, search and rescue, and various other operations. We built it mainly to enhance our personnel's skills. However, other fire departments from across the area keep our facility busy between April and October every year.
Municipal fire departments – Greater Napanee, Stone Mills, South Frontenac, South Glengarry, South Stormont – and industrial fire departments – Invista Kingston, Novelis Kingston, Ontario Power Generation, and Goodyear, to name a few - throughout our area regularly book our training centre to train their forces. Over the last decade, hundreds of firefighters have enhanced their skills at our facility. Our training centre is one of the best in Eastern Ontario.