New In Loyalist Township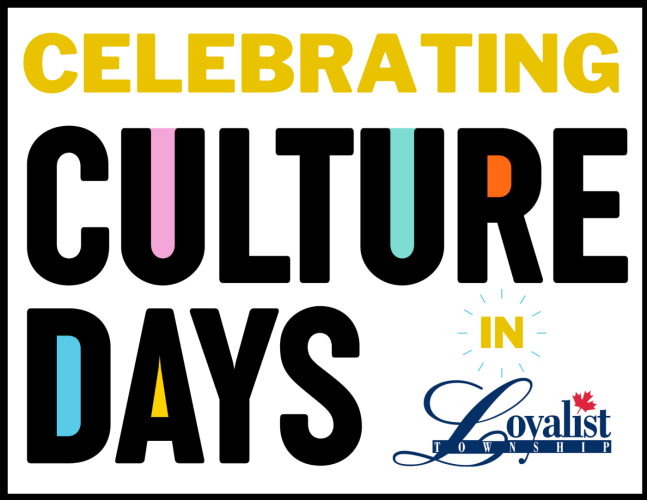 The Ontario Culture Days Festival is an annual celebration of arts, culture and heritage taking place each fall across the province. This year's Festival will take place across three weeks from September 23 to October 16, 2022.
Help us celebrate here in Loyalist!
We are proud to be home to a wide variety of cultural fun and we thank all those many local businesses, organizations and volunteers who work tirelessly to bring life to our community!
Check out what's happening locally during Culture Days! All events and activities are free and open to everyone.
Activities
County Fresh Market - September 24, October 1, 8, 15 from 9 a.m. to 2 p.m.
The County Fresh Market is open weekly and features a dedicated team of Producers who are pleased to be bringing you top quality, fresh, local goods!
Swing by the weekly Market to see what is in season and support our local producers.
At the WJ Henderson Arena, 322 Amherst Drive, Amherstview
Check out the County Fresh Market Facebook page for up to date information.
Dry Stone Wall Symposium - September 24 and 25 from 10 a.m. to 3 p.m.
Dry Stone Canada will be restoring the McMullen Farm dry stone wall at its annual meeting from Friday, September 23 to Sunday, September 25. The public is invited to view the process and enjoy the outdoors. Free and open to the public. There will be a practice area with potatoes for the kids to build their own structures, music by local musicians and some island vendors. Bring a picnic, come for the day and visit Amherst Island!
At the McMullen Family Farm, 15095 Front Road, Stella, Amherst Island
Topsy Farms Pollinator Seed-saving Workshop - September 24 from 10 a.m. to 11:30 a.m.
Topsy's garden is a semi-controlled jungle of flowers interspersed with the vegetables. Many of the flowers plant themselves or are kindly dropped by the birds. Learn a bit more about the reproductive life of several flowers, their preferences and needs. Bring a few envelopes, a bowl or cup, a pen and good sturdy shoes or boots. An apron or smooth dish towel might be handy. You may choose a few flowers from the garden, will gather their seeds into your bowl then stash some into your envelope to take home. We will talk about why the bees and other pollinators are so vital for our lives. Which flowers are preferred by honeybees, by butterflies. We will also dream about the inviting habitat you might be able to create on your patio, on your balcony, or in your yard.
Please come dressed for outdoors. Masks optional but preferred if you are gathering around a bowl. Fee: Adopt a Bee - you choose the amount.
At 1477 Front Road, Amherst Island
Book your spot today for the Pollinator Seed-Saving Workshop.
Bath Sunday Market - September 25, October 2, 9, 16 from 10 a.m. to 4 p.m.
Come down to the Village of Bath each Sunday and see the different vendors and their stock. Treat yourself or a friend to locally made crafts, jams, fresh fruit and vegetables and lots more. Each week will be a little different. Don't miss out!
The Bath Sunday Market is proudly hosted by the Bath Gardening Club and a dedicated team of volunteers.
At Centennial Park North, 311-341 Main Street, Bath
Check out the Bath Sunday Market Facebook page for up to date information.
PA Day Fun, Colour My World with Scientists in School - September 26 at 2 p.m.
Colour is everywhere! Without it our world would be a very dull place. Use colour to watch water defy gravity, explore rainbows and create a sun catcher. Use chemistry to create new colours. Curious? Come and explore some colourful science presented by Scientists in School.
Ages 5+. Registration is Required.
At Lennox & Addington Libraries, Amherstview Branch, 322 Amherst Drive, Amherstview
Register now!
Storytime - September 28, October 5, 12 at 10:30 a.m.
Join us for stories, rhymes and more! Preschoolers will gain valuable early literacy skills and practice fine motor skills with a craft activity!
At Lennox & Addington Libraries, Amherstview Branch, 322 Amherst Drive, Amherstview
Register now!
Family Story and Orange Shirt Beading - September 28 from 3:30 p.m. to 4:30 p.m.
Please join the Métis Nation of Ontario for a beading session where they will be teaching participants how to make orange shirt pins. To register for your supplies and zoom link please contact Sam or Corrin. (Virtual Session)
Visit the Métis Nation of Ontario for more information on resources.
TuNes Day - September 28 from 6:30 p.m. to 7:30 p.m.
Emily Bashall is a country singer/songwriter from Kingston, Ontario. Regardless of whether you see Emily on a big stage or in a small intimate setting, you can always count on leaving feeling connected to her performance. She shares with us a wide range of music from country classics by Loretta Lynn to chart topping pop singles alongside her own original music. Emily is accompanied by Cameron Wyatt. This will be a Wednesday evening you will enjoy!
Loyalist Township is proud to be joining in the Platinum Jubilee celebrations honouring Her Majesty Queen Elizabeth II, marking her 70th anniversary on the Throne. She was Canada's longest reigning Sovereign and the longest serving British monarch in history - certainly for the last 1,200 years! So what better way to celebrate than with some live music in beautiful surroundings!
Grab a lawn chair, a blanket and your dancing shoes and join us for free live music at our TuNes Day in the Township summer concert series! All concerts will be free of charge and "weather permitting" with schedules subject to change. In the event of a cancellation, a sign will be posted at the concert location and an announcement made on our social media platforms.
At The Babcock Mill, 100 Bridge Street, Odessa
Virtual Trivia Night - September 28 from 6:30 p.m. to 7:30 p.m.
Join the Lennox and Addington Libraries for this fun and free evening testing your knowledge of everything…VIRTUALLY!
At Lennox & Addington Libraries – Amherstview Branch, 322 Amherst Drive, Amherstview
Register now!
STEAM Quest - September 29, October 6, 13 from 6 p.m. to 7 p.m.
Runs concurrently at the Amherstview and Napanee branches on Thursday evenings.
Through guided experiments, challenges and activities kids will get to explore science, technology, engineering, art, and math concepts without messing up your house!
Perfect for school ages kids 5-12 or younger with parental assistance.
At Lennox & Addington Libraries – Amherstview Branch, 322 Amherst Drive, Amherstview
Register now!
National Day for Truth and Reconciliation - September 30
In recognition of the National Day for Truth and Reconciliation on September 30, Loyalist Township - Heritage, Culture and Tourism - has put together a drum making activity and compiled a list of organizations that provide indigenous support, services and programming to residents of the Township and the surrounding areas.
Kits can be picked up at the following locations between September 24 to September 30. Pre-registration is not required. Kits are limited and will be provided on a 'first come first served' basis.
Neilson Store Museum and Cultural Centre, 5220 Front Road, Amherst Island: September 24 and 25 between 1 p.m. and 4 p.m.
Odessa Township Office, 263 Main Street, Odessa: Monday – Friday 8:30 a.m. to 4:30 p.m.
W.J. Henderson Recreation Centre, 322 Amherst Drive, Amherstview: Monday – Friday 8:30 a.m. to 4:30 p.m.
Fairfield-Gutzeit Discovery Centre, 341 Main St, Bath: Monday – Friday 8:30 a.m. to 4:30 p.m.
Bath Museum, 434 Main St, Bath: September 24 between 10:00 a.m. to 2:00 p.m.
One Book, One L&A: Author Chat with Bryn Turnbull - October 2 at 1 p.m.
Kick off Canadian Library Month with a visit from the author of our One Book, One L&A pick, The Last Grand Duchess. Bryn Turnbull is known for her meticulously researched historical novels that succeed at breathing life into lesser known (yet endlessly fascinating) women who existed at the periphery of major world events.
At Lennox & Addington Libraries – Amherstview Branch, 322 Amherst Drive, Amherstview
Register now!
Craft Works Book Witches - October 4 at 6 p.m.
For adults, join us for a fun craft tutorial where we make it as easy as 1-2-3! Learn a new craft and make new friends. During this craft program we will be turning books into a witch!
At Lennox & Addington Libraries – Amherstview Branch, 322 Amherst Drive, Amherstview
Register now as spaces are limited!
Bath Museum: Special Collection Sneak Peak - October 8, 9, 10 from 10 a.m. to 3 p.m.
The Bath Museum will be opening its doors back up for a special sneak peak of our exhibits. Visitors will be able to speak with volunteers about our collection, and how we acquire items.
Originally built in 1861 as the Town Hall of Bath, the site is now a treasured historic property designated under the Canada Heritage Act.
Exhibits take you on a journey of our cherished history from pre-colonial times all the way to World War II, beginning with an archaeological history of the First Nations in this region.
You will find no shortage of treasures inside! The museum has a rich collection of United Empire Loyalist, World War I and World War II memorabilia, including artifacts dating back 400 years.
At 434 Main Street, Bath
Check out the Bath Museum Facebook page for day to day information.
Fall in Love with Bath - October 15 from 10 a.m. to 5 p.m.
F A L L in love with everything Bath has to offer on October 15th for your chance to WIN!
Receive a ballot for every $10 spent at participating Bath businesses for your chance to win a box full of goodies from all of us!
Stay tuned for more details and watch our list of participating businesses grow!
At Main Street, Bath
And on for longer...
Second Chance Ranch Tour - Open 7 days a week by appointment
Looking for a fun and educational local activity to do? Do you love animals? Second Chance Ranch is a place where horses and other animals are given a future - a second chance. Visitors will meet horses, alpacas, donkeys, chickens and ponies. During your time at the ranch, you will learn about these animals, and what we can all do to provide a better life for animals of all sorts and make the world a better place.
At 6038 Highway 2, Odessa
Topsy Farms - Open 7 days a week all year from 10 a.m. to 5 p.m. (excluding holidays)
We welcome visitors to our farm to enjoy the view of our flocks of sheep, and to meet our two Highland cattle Willow and Cedar. Topsy Farms also offers a beautiful 2km hiking trail to the Sugar Shack that is open all year, weather and conditions permitting. Please check in at the Wool Shed before your walk.
At 14775 Front Road, Amherst Island
More upcoming events