Community Outdoor Rink Program
This pilot program brings neighbours and community together to enjoy outdoor recreational skating and a healthy outdoors activity! If you like the idea of spending time together outdoors doing something you love, at no cost - look no further.
We are searching for volunteer groups within the Township who would be interested in operating an outdoor ice rink during the winter months. The core group of volunteers should consist of five or more adults to support the construction, maintenance, and daily inspections of the community outdoor ice rink.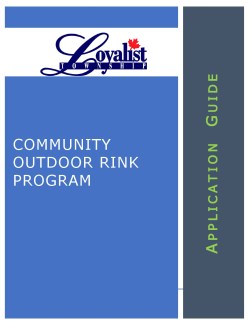 Applications will open October 1, 2023. Please complete and upload your/your group's application form before November 1, 2023 to express your interest. Please review our Outdoor Rink Program Guide to learn more before filling out an application form. Application Form Program Guide Submit completed form
Participating Locations
We have identified four suitable locations for outdoor rinks in the Township, each with an existing water source, flat areas that drain well and ideally not immediately next to homes.
Sk8ter Park, Odessa
Lakeview Park, Amherstview
Sunnyside Park, Amherstview
Fairfield-Gutzeit House, Bath (starting 2025/2026 season)
If you have a group interested in a community rink at a location on Amherst Island please contact us at the W.J. Henderson recreation Centre.
Background
We didn't operate any outdoor rinks during the 2022-2023 winter season. Unpredictable weather meant that we didn't have the long periods of cold needed to sustain stable ice.
The 2022-2023 winter season was not kind to outdoor ice rinks. The weather is becoming more irregular which creates challenges for outdoor skating. Outdoor ice rinks need a greater degree of maintenance to ensure safe ice.
Although past years have not been ideal for ice making, and we can't predict the future, we would like the Township to be prepared for outdoor rinks should we have the right conditions. Having a Community Outdoor Rink Program already in place will help with that.