Bath Museum and Visitor Centre
Originally built in 1861 as the Town Hall of Bath, the site is now a treasured historic property designated under the Canada Heritage Act.
Our museum is "self-guided". No reservations are needed!
Exhibits take you on a journey of our cherished history from pre-colonial times all the way to World War II, beginning with an archaeological history of the First Nations in this region.
You will find no shortage of treasures inside! The museum has a rich collection of United Empire Loyalist, World War I and World War II memorabilia, including artifacts dating back 400 years.
Hours of Operation
The 2023 Bath Museum and Visitors Centre visiting season is now over. Please check back in spring 2024 for summer opening details. Subscribe to this page to make sure you don't miss anything!
Admission is free
Donations gratefully accepted! Your generous support funds exhibits, programs and operations
Exploration Days
We are excited to present our new free summer Exploration Days - fun, interactive learning experiences that will be hosted at two of our beautiful historic sites, the Bath Museum and Visitors Centre and the Babcock Mill on a rotating weekly basis. Check out the activities planned for this summer!


Location
434 Main Street, Bath Ontario
The Bath Museum is easy to find! Located on the Main Street of Bath, also known as provincial Highway 33, the Museum is just 30 minutes east of the Glenora Ferry or 15 minutes south of Highway 2. If you're heading west along 33, you'll find us 25 minutes from the city limits of Kingston. From the 401, take the Camden East exit (593) and follow the signage to County Road 8, bringing you to Bath.
Accessibility
Please note that as an historic site, the space does have some physical barriers.
History of the Museum
The Bath Museum started from very humble beginnings in 1936. The first display of artifacts, arranged by local history enthusiasts, was set up in the Town Hall to celebrate first Dominion Day, then Canada Day. This successful pop-up event was repeated for several years.
In the 1980s, a group of determined locals came together with the municipality and opened a seasonal museum exhibit on the second floor of the Layer Cake Hall where it remained for some years until it outgrew the space.
In 2009, the Bath Museum moved to its current location in the Old Town Hall which was completed in 1861. It was built because a Division Court Judge objected to the noise of nearby school children when holding court sessions and refused to return until a permanent court house was built. Construction was completed in 1861. Visitors will note its Tuscan portico, reminiscent of Roman buildings with civic or judicial functions.
Our Bath Museum is a true community museum which is organized and managed by volunteers and supported by Loyalist Township.
Museum Collections
About the Collection
Our collection comprises a wide range of media, including objects, archival documents, photographs and a library of rare books.
The museum upgraded its computerized collection management system and has digitized much of the collection. We are in the process of making the collection more accessible to all users. Here you will be able to explore information on collections, images, archival documents and more through our online database. Check back soon for an update.
The theme of current exhibits includes "Built in Bath" and sharing the "Stories of Bath". The collection includes items that document the history of the community.
What we collect
Through donations or bequests, the Bath Museum receives objects that reflect the history of Bath and Loyalist Township. The museum accepts donated items that are part of our local history.
The value of our artifacts is increased when more is known about the item and its provenance. Who made it, who owned it, how it was used, its condition and whether we already have similar artifacts all contribute to its value.
Donations of artifacts
We receive many generous offers from the public. Please understand that we cannot accept all of them. If you have a personal treasure or family heirloom that you think should be part of the Bath Museum collection, please don't hesitate to contact the museum to discuss.
Feature Exhibits
Please check out out the Gallery below for some fascinating pictures of some of our exhibits!
Victorian Carpet Bowls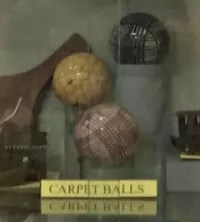 Most of us know about lawn bowling, croquet, and billiards, but carpet bowling was a Victorian fad, now almost forgotten. This popular game originated in Scotland and later spread to England where it finally crossed the Atlantic to Canada. At the height of its popularity in the late 19th century, this indoor parlour game was often sponsored by churches as a social activity.
These large pottery spheres were made of fired clay and decorated in various patterns. Few have survived the rough treatment as they were whacked and cracked and occasionally chipped.
The Bath Museum is lucky to have three such surviving balls in our possession in good condition.
Put through the Wringer
Old washing machines hold an attraction all of their own and we have a fine example of a hand cranked wringer washer - an example of one of society's most useful inventions! Modern washing machines clean clothes at the touch of a button which sure beats the old method of pounding a shirt with a rock!. It is easy to forget just how difficult it used to be as this appliance was built of wood and hand operated. Doing family laundry was a chore that required hard labour.
Today, antique wringers are considered a great collector's item so the Bath Museum is pleased to include one in our collection.
Appeal of the Apple Peeler
Back in the mid-1800s, when manufacturing became more efficient, this early device in the museum's collection made short work of coring and peeling apples.
Considered a serious workhorse, this apple peeler had a complicated combination of wheels, cranks, and gears to pare, core and slice apples.
This antique cast-iron peeler is mounted to the original oak base and is almost elegant in its simplicity. Out of service these days, this apple peeler is one of the museum's treasures.
War of 1812 Water Canteen
The collection features a number of items relating to the War of 1812 such as this particular water canteen. Rescued by divers from the waters of Lake Ontario, this is a social artifact found right here in Bath at the end of Davy Street.
Soldiers considered a water canteen as a valuable personal item so it is not uncommon to find identification marks on antique canteens. This one has the initials X and IW carved into its side but the owner is unknown. The water canteen was a standard issue item associated with military service so we can only imagine the many mouths that sipped at the contents of this vessel to quench their thirst.
Years of being submerged in deep water have left their mark as pitting on the metal bands. Symbolizing the dark days of war, this treasure certainly reflects our Canadian history and is on display at the museum.
"Coffin" Wall Telephone
This version of a once household staple had all but disappeared by the mid 20th century. Described as a wood wall-mounted "coffin" these telephones were tall, bulky and considered to be the first phones put into wide circulation.
Telephones have evolved quickly over the past century and have undergone many changes to keep up with the demands of their users. While this version may be considered obsolete and tradtition landline considered old-fashioned, spare a thought for the past when you communicate with friends and family today by video conference, cell phone, or the internet. If you want to see this blast from the past, check it out at the museum!
Fish Lantern
Night fishing is a pursuit like no other. Fishing is normally more successful during the day but fishing from dusk to dawn can be rewarding.
Early fishermen used torches to illuminate the water where they fished. This charming hand-made fishing lantern would have cast a warm glow. It was said that the light attracted the game fish and an oil sleeve fuelled this apparatus.
It may be one of a kind, but that one of a kind is in the museum's collection!
Gallery
Under construction
Support the Museum
Volunteer
The Bath Museum is always seeking volunteers interested in preserving and sharing our local history! Check out the Volunteering section, or contact the Cultural Development Coordinator to learn more about volunteer opportunities available at the Museum.
Donate
The Bath Museum is supported by donations and not by admission fees, making your contribution vital to help the museum achieve its mission to collect, conserve, display, educate and inspire.
You can donate funds by
Cash or cheque, in person or by mail to Box 70, 263 Main Street, Odessa Ontario K0H 2H0. All cheques to be made payable to "Loyalist Township c/o The Bath Museum"
Donation boxes on-site at the museum.
Tax receipts can be provided upon request for gifts over $20.
We thank you for supporting our mission.
About the Bath Museum Committee
The Bath Museum Committee is responsible for the preservation of the museum's collections and provides an important link between the museum, Loyalist Township and the community.
The Bath Museum Committee comprises ten volunteer members. We are looking for talented and conscientious volunteers to help strengthen the Bath Museum. If you can contribute a couple of hours a month of your time, thoughtfulness, and energy , and are interested in working to improve our community - we need you!
Committee Meetings
Monthly meetings are regularly scheduled for the last Tuesday of the month at 10:00 a.m. at the Bath Museum premises. Meetings are open to the public but limited to 16 persons as per the building capacity.
Contact the Museum
Phone: 613-352-7716
If you have questions about the collection, volunteering or donations you can email the Bath Museum staff.